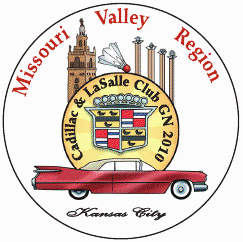 Not wired into the whole social media scene? Not everybody has a Facebook account, but you can follow the goings on at the Club's Facebook site, facebook.com/kccadillacclub, by occasionally checking this page.
We still have a few open spaces for Cadillacs and LaSalles at the 2018 World of Wheels car show February 9th--11th. If you are interested in showing your car to an audience of about 50,000 people, or if you want to be a greeter at our Club table, please contact Doug Redman immediately. Doug needs to get our applications delivered by the end of next week. This is an exciting event where we meet potential new members. So, come on down and have a good time.
Exhibitors typically move in on the Wednesday before the show at 1:00 p.m.: February 7th. The cost to the exhibitor is $50.00. You can download your application and provide two photos of your car to Doug at the Club party Sunday if you would like to participate. You will receive two 3-Day passes to attend the show. For more information, and to get a application, click on the link below.
Again, contact Doug as soon as possible if you are interested. Cell: (816) 679-2410 dougredman@earpdistribution.com

autorama.com/attend/kansascity/ ...