Check here to keep in touch with the Club's activities. Also check the "Local Cruises, Car Shows, etc." page of this website for more local events.
Attention!
Our Next Regularly Scheduled Monthly Membership Meeting: Sunday January 27th 2019 at 4pm. We will gather at Denny's Restaurant 10480 Metcalf Overland Park. Click here for the agenda
Club Holiday Party Scheduled for Sunday January 13th at Affordable Elegance, Gregory's Event Space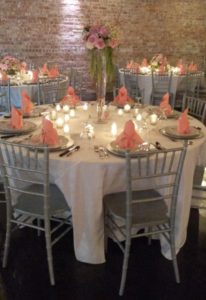 The Club's Annual Holiday gathering will be catered by Gregory's  401 W. Pine St. Raymore, MO. You'll find the venue at the corner of Pine and Hwy 58, check the map in the sidebar for directions. The festivities are planned for Sunday evening January 13th. We can gather at 5:30pm; dinner is served at 6pm. There will be a cash bar on site. Carved sirloin and Chicken Marsala will be our entrees. Please visit their website for a look at the facility. As is our custom, door prizes will be awarded, and Craig Wood has agreed to entertain us with a thought-provoking round of trivial questions. This dinner is free to all dues paying members and a guest, and it's also a perfect time to pay your 2019 dues! We look forward to seeing you there.  https://www.affordableelegancecatering.com/
Please RSVP using the app, the Contact  page of this website, or call Tom Keegan 816-561-1361.
 World of Wheels Just Around the Corner
The great World of Wheels travelling show will hit the brakes in KC Feb. 22–24. Our membership is planning another stunning display of classic Cads to "wow" the many attendees, and promote our Club. If you wish to display your Cadillac or LaSalle, please contact Doug Redman through the app, the Contact page of this website, or email him at dougredman@earpdistribution.com
Store Your Car
Of note: Your Classic Ride has space available to store your vehicle. It is an interesting garage which offers 24/365 access to your car, and has a live-in caretaker. You may also bring your tools, and use the facility's lift to work on your vehicle. All this for the modest sum of $200 per month.