2017 CLC Grand National Tysons Corner. VA
http://www.vfrclc.org/2017gn.html
The 2017 CLC Grand National to be held at the Hilton McLean Tysons Corner, Virginia!  The event will be co-hosted by the Potomac Region and the Valley Forge Region, and will be held July 31 – August 6, 2017. Ronnie Hux will serve as Chairman of the event with Scot Minesinger as the Potomac Region Lead and Jack Hotz as the Valley Forge Region Lead.  This will be the first time in the 50+ year history of the CLC that a Grand National will be held in the Potomac Region, and, according to Marsha Redman, more than 3,000 room nights have been reserved.  Visit the 2017 Grand National website for updates on the event!
The host hotel is located just off the Capital Beltway on the west side of Washington, D.C. A map and directions are available here.
As an added bonus, those CLC members staying on site will receive a 15% discount to the hotel's award winning restaurant and lounge.
 National Driving Tour June 25th–July 1st
Hit the "Mother Road", Route 66 in this week-long, Illinois-based cruise. These guys have so much planned just in Illinois and Missouri, you will think you drove all the way to Bakersfield. FLbutalla@sbcglobal.net
Cadillac Grand European August 23–27 Copenhagen Denmark
Cancelled!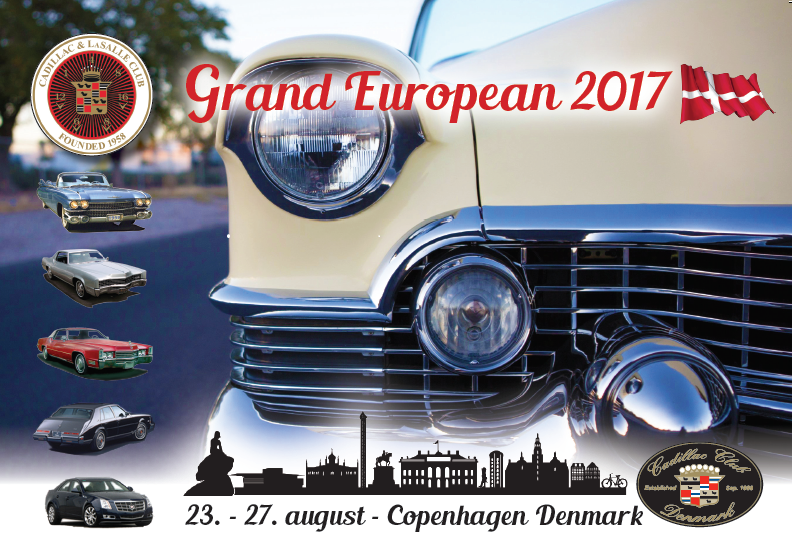 Cadillac Grand European August 23–27 Copenhagen Denmark has been cancelled due to the low number of members who signed up to show their cars. Regrets to those who planned to visit the Danish capital. Visit their club website to apply for a refund of prepaid activities.
Australian Grand National Renmark South Australia
March 21–26 2018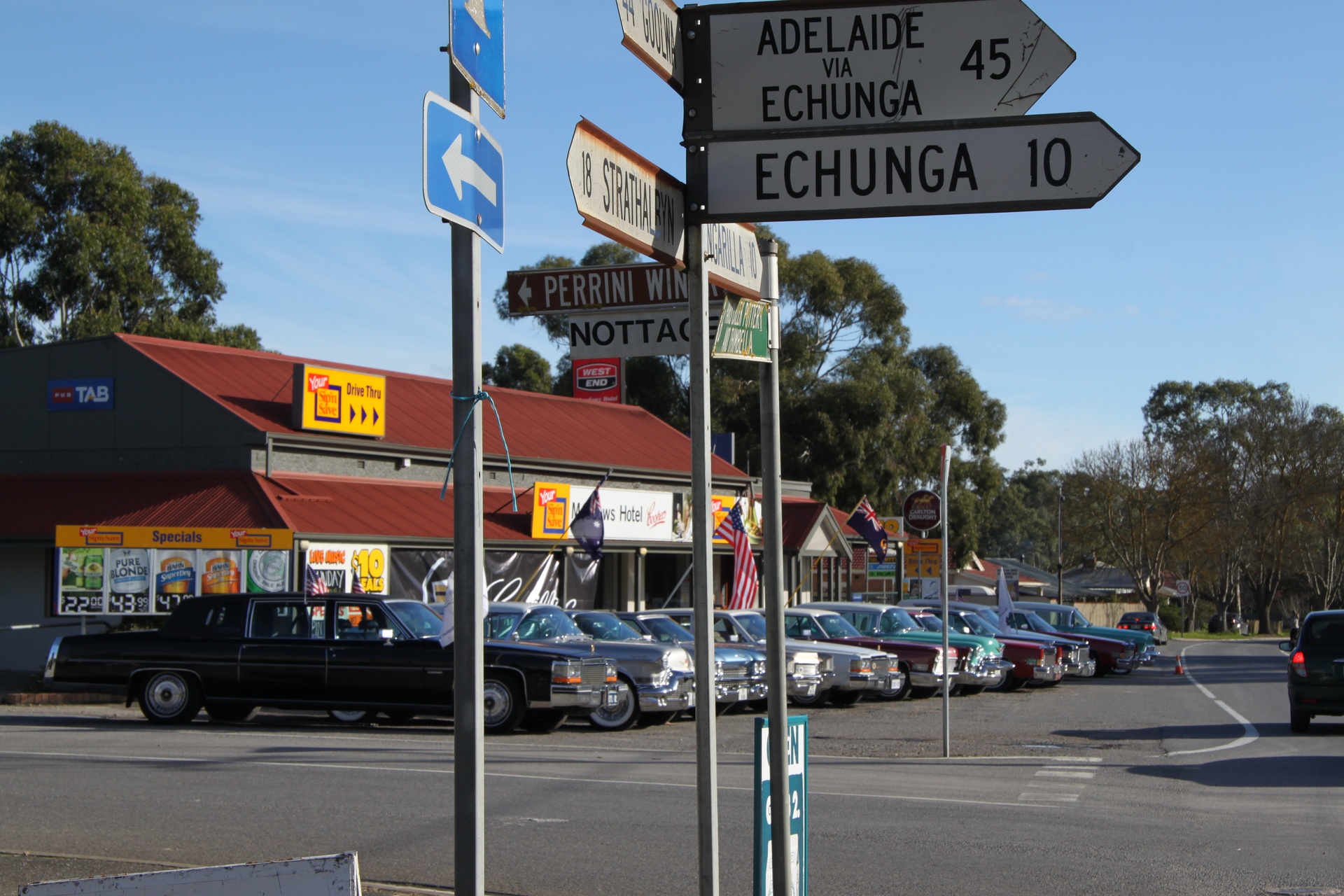 Start saving your pennies, or whatever it is they use in Oz, and steel yourself for the long plane ride because this latest muster down under will be well worth the expense and discomfort. The venue skirts the Murray river in South Australia, the fruit and veggie growing region of the austral continent, so the climate is mild. So for a fair dinkum look at Cadillac life on another continent, make your arrangements soon.
 CLC Announces New Directory, Member Software
The following information courtesy of SWVP Tim Coy
The 2017 CLC International Membership Directory will be mailed in late October to most of you along with your November-December copy of The Self-Starter; for those on First Class and Life memberships, the Directory will be bulk mailed separate from your copy of The Self-Starter. If you are an online-only member, you will not receive a printed directory; it will be available as a read-only PDF in a protected area of the CLC website. A postcard will be inserted in an upcoming issue of The Self-Starter asking members if they wish to continue receiving the printed copy for 2018 and beyond. If the member returns the postcard and/or e-mails the CLC Office, they will continue to receive a mailed directory. Otherwise, they will not, and will be able to log in and look up the information on the CLC website. This is a huge cost-saving move and hopefully will ward off a dues increase for a while longer.
Use the new Directory for membership recruitment
I did this for years when I was the editor of my Region's newsletter. Look up all the names in your assigned area, send all non-Region members a letter and/or a newsletter along with a membership app and ask them to join your Region. My experience was that 20 percent of those people will respond and join your Region, with the new revenue you receive far outpacing your postage expenses asking them to join. The CLC experience is best at the local level.
New membership software coming
The board, in a majority vote, approved to allow the CLC to move its membership records to YourMembership.com by the beginning of 2017. The Club will save money in the long run, while offering members the ability to update their own information without having to notify the CLC Office. Every member will be given one login and password for all functions, which will work for updating your membership information, renewing your membership, viewing The Self-Starter (if you have an upgraded membership), viewing the online Directory, participating in the Discussion Forum and a lot more. Once you're logged in, you can search for every member in your state, members who own the same body style you have, and you can even search for owners using multiple model years. YourMembership.com will allow Regions access to conduct business, so get ready for this exciting change.
Dan Cress of the Badger Region (Wisconsin) has been appointed Grand National treasurer beginning with the CLC-operated 2018 Grand National. Chuck Swanson of the New York Capital District Region has been appointed vice president of Information Technology, and will oversee the implementation of YourMembership.com. DR Rawson of Las Vegas has been appointed chair of the Membership Promotion and Public Relations Committee, and will spearhead efforts to bring in new members and retain existing members.
2017 Grand National judges
This is going to be likely the second-largest Grand National the CLC has ever had (Detroit's 2002 meet is by far the largest ever). Chief Judge Bill Anderson needs judges badly for this meet. Watch for the registration form in the January issue of The Self-Starter. If you and folks in your Regions plan on going, please consider being a judge and check off the appropriate box on the registration form. In that vein, the number of cars to be judged will be limited if there are not enough judges, according to Bill.
Grand National—2017—McLean, Va; 2018, San Marcos, TX, 2019, Chicago area; 2020, Louisville, Ky. or Kansas City area, still TBD
National Driving Tour—2017, Chicago to St. Louis; 2018, Southern California area; 2019, Gettysburg, Pa. area
CLC Museum mortgage retired
The building at the Gilmore Car Museum in Hickory Corners, Michigan, is paid off; however, there are still operating expenses and an upcoming fundraising campaign will take place to expand the building.
Don't forget to work hard and get your rosters up to 100 percent National compliance—I'm counting on you! If your member refuses to join National, you must remove them from your roster. When you and your membership chair have done the best you can, please resubmit your rosters to the CLC Office at cadlasalleclub@aol.com.
Eighth Annual Cadillac Fall Festival September 22nd–24th 2017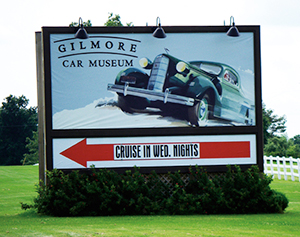 The Cadillac LaSalle Club Museum and Research Center at the Gillmore Car Museum will host the Cadillac Fall Festival in Hickory Corners MI this September 22-24th This year LaSalles are the featured cars. It is a fantastic event, and you'll be glad you made the effort to attend, have your car judged, and visit the CLCM and research center. The museum's collection grows each year, and the quality of the display continues to astonish visitors.
Also worth mentioning: the mortgage on the building has been paid off! This is due in great measure to the efforts of Paul Ayres who has worked tirelessly as museum director and fundraiser. Remember this is your museum. A pilgrimage to the site ought to be high on your travel plans. Also, even though the building is paid for, expenses never stop. Your generous support is appreciated.
Check out museum activities on facebook: facebook.com/pages/Cadillac-Lasalle-Club-Museum-Research-Center/593415324019434
Grand European 2015 August 26th–30th Pfäffikon, Switzerland

If you think a tiny  country landlocked in the heart of Europe has no interest in Cadillacs, you would be sorely mistaken. For, in the land of milk chocolate and mountains, they like their cars big. And they know how to party. This year's international group included 8 Aussies, 12 Yanks, numerous Brits, Germans, French, Swiss, and Dutch all speaking the same language: Cadillac. Attendees were treated to a busy four days touring the Zurich region with visits to the Swiss transportation museum in Lucerne, a cable car ride to the top of a mountain, and a dinner cruise on Lake Lucern.  Its probably not too early to start planning you trip to the 2017 event in Copenhagen! Auf weidersehen!
Big Meet is Huge Fun!
http://www.cadillac-bigmeet.com
The 11th Cadillac BIG Meet will take place in August  2018
https://www.facebook.com/groups/109516329070589/?fref=nf

Europe's BIGGEST Cadillac Meeting – open to everybody.
All years welcome, free entrance for participants and visitors
Live Band
Awards for the most beautiful and rarest Cadillacs
Driving tour