Grab your Ruby Slippers, and fasten your seat belts, and leave the traffic jams good-bye as you embark on a five-day Hub-and-Spoke tour of the wonders of central Kansas
The tour is sponsored by the Missouri Valley Region of the Cadillac & LaSalle Club to be held August 27–31, 2024. Participants would arrive on Tuesday, tour begins on Wednesday, depart Sunday.
Hub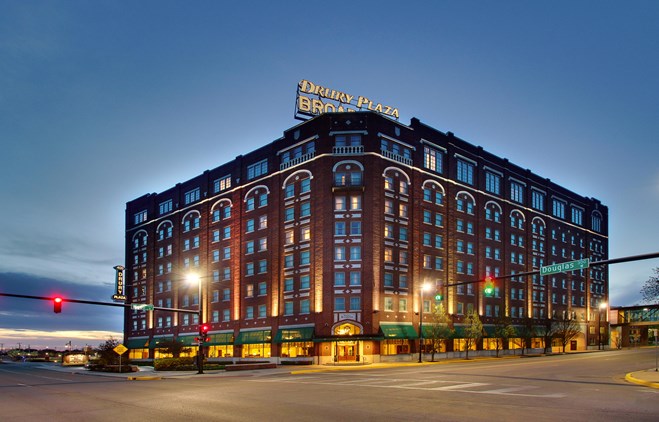 Drury Plaza Hotel Broadview 400 West Douglas Ave. Wichita, KS 67202
This recently renovated landmark hotel offers a central location to the week's activities. In addition the Drury features:
Evening Kickback where guest are offered free food and 3 drink tickets 5:30 to 7:00 pm
restaurant on premises, AVI Seabar and Chophouse
ample space for gathering and organized activities
Spokes and Activities
Tuesday evening August 27th: Members gather at the hotel for Kickback free food and drink.
Wednesday August 28th: Drive 90 miles to Salina KS:
Visit "The Garage" custom and classic car collection
lunch at Martinelli's Little Italy
courtesy call to Omega Auto Clinic, Newton, KS visit popular Car Wizard.
Thursday August 29th: Drive 51 miles to Hutchison, KS:
Cosmosphere space history museum
Lunch at Carriage Crossing Restaurant
Underground Salt Museum
Friday August 30th: Drive 72 miles to Smoky Valley McPherson and Lindsborg, KS
Automotive Restoration Department McPherson College
Lunch Crown & Rye Restaurant
Old Mill Museum Complex, Lindsborg, KS
Saturday August 31st: Drive 20 miles to Wichita and Benton, KS
Kansas Aviation Museum
Prairie Rose Chuckwagon Supper and Awards Ceremony