Can't Drive it? Store it!
All dressed up but no place to go? Well, don't leave that classic Cad out in the cold. You can store your vehicle at the KC Automotive Museum's new indoor storage facility located just south of downtown Kansas City. Prices begin at $100 per month. So free up some garage space while still gaining easy and secure access to your beauty. Click on the link below for complete information.
Caddy Queen Marsha Redman Receives Club's Top Honor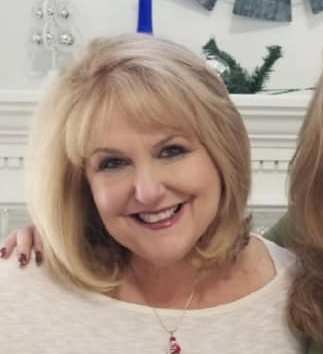 Congratulations to CLC Vice President for National Activities Marsha Redman who scooped up this year's Henry M. Leland Award–the Club's most prestigious award. Marsha joined the National Meets and Tours Committee in 2008, and was selected VP in 2011. Since then she has devoted her energies into organizing our National Driving Tours and Grand National events. We all know what organizing skill and sticktoitiveness it takes to put on a nation event, but Marsha makes it look easy. Our Club is lucky to be the beneficiary of her tireless work. Marsha finds herself in good company. Past Leland Award winners include Roy Schneider, Joe Gildea, Yann Saunders and St. Louis' Terry Wenger
A Message from Club President Steve Christensen:
Well we were all thinking about this but now it's official, the Grand National for 2020, planned to be hosted by the Missouri Valley Region, our club, has been cancelled. Too bad, it was going to be a fun time. But with all the concern with the Covid-19 pandemic the GN too has been affected. Certainly sorry to have to inform you of this, but if this is the worst we face, that will be OK.
The 2020 CLC Grand National has been cancelled. The Judges Workshop has also been cancelled. The McPherson College C.A.R.S. student car show May 1st and 2nd has been cancelled. Check the Calendar and Upcoming Events page of this website for more info!
A Word From VP for National Activities Marsha Redman
As you heard through the email from Steve, our GN has been officially canceled.
It has been a very frustrating process, but our ultimate goal was to keep everyone safe. We are working with the hotel to get reservations canceled. If they cannot do that for us, then anyone who has made reservations will need to call the hotel and cancel.
We expect a mass email from Glenn Brown announcing the cancellation of the event. Tom has taken care of canceling the judges workshop in April. The Fallfest in September has also been cancelled.
I want to thank each of you for all of your efforts in working on the grand national to make sure it was successful, and I understand it took a lot of time and energy. It is disappointing to say the least. I feel a little better since the hotel has agreed to refund all of our monies, and not extend any penalties to us. I believe the national has made a few deposits we will get those we have to pay our registrar for the registrations she has worked.
There is talk about having a small board of directors meeting in Kansas City this fall for the national and museum. They have also asked if we would be willing to do our event in 2023. My first thought was. "Oh my, I will 3 years older". But if you think about it, we have the plan done, it's just changing the dates. So I would like you to at least think about it. The national said they would come in and run it if Kansas City did not want to do it. Again, we've already done the work, so please consider this option.
Again my heartfelt thanks to everyone. I appreciate your support and look forward to hearing what we are doing in the future. Marsha

You May View CLC President Glenn Brown's Message to the Club, and Find Information on How to Cancel Your Registration by Using this Link: CLC info
Cadillac Cancels Debut of Lyriq EV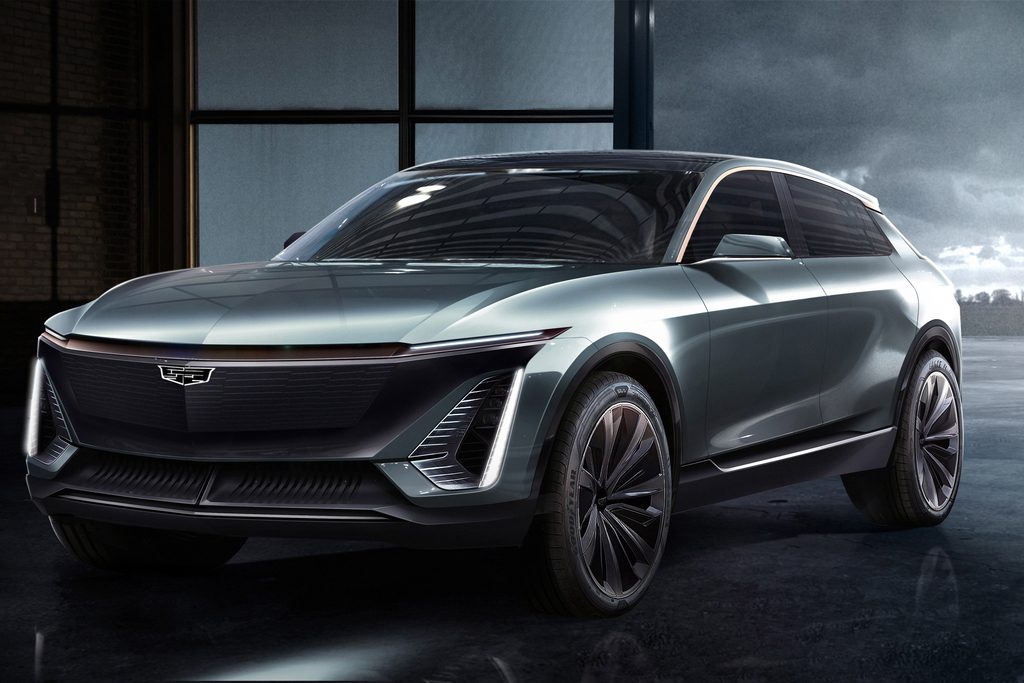 If global pandemic fears have you wringing–and washing–your hands, you are not alone. Cadillac has canceled the debut of its Lyriq EV due to coronavirus fears. The debut was schedule for April 2 at an event in Los Angeles and the automaker has not yet chosen a replacement date. It seems like someone hit the pause button on our world. Expect even more delays, and inconveniences as we struggle through the next few months. Remember a new dry cough, and a low-grade fever are the first symptoms of the disease. If you exhibit these symptoms, self quarantine at home and contact your doctor.
2021 Escalade Diesel?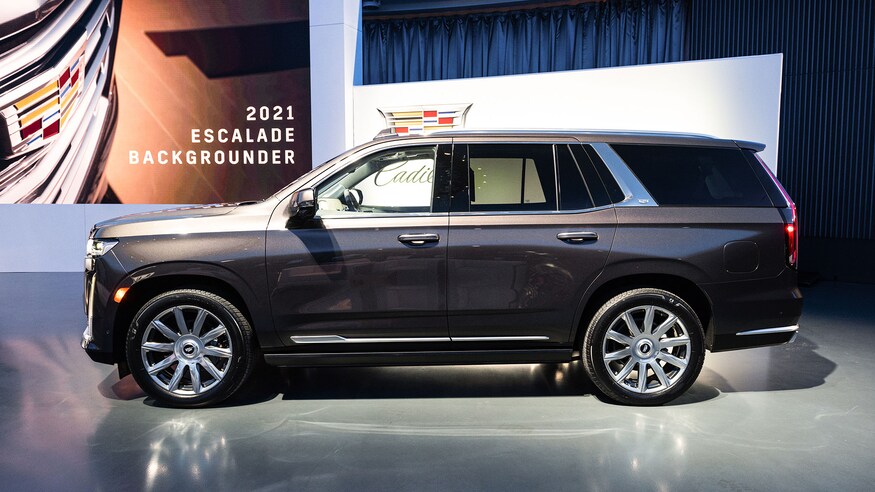 Oh, yeah, Cadillac has a lot of nerve dropping a diesel engine into their flagship vehicle after its last go around with oil burners. This time it's a 3.0-liter, 6-cylinder engine which Cadillac will share with Suburbans and pick up trucks. A $2500 premium gets you an all-aluminum in-line engine developing about 220 horsepower, returning 28 mpg. Why anyone at Caddy HQ thinks this is a good idea is beyond us, but it will keep the lawyers busy.
Welcome to Jane and Tony Ross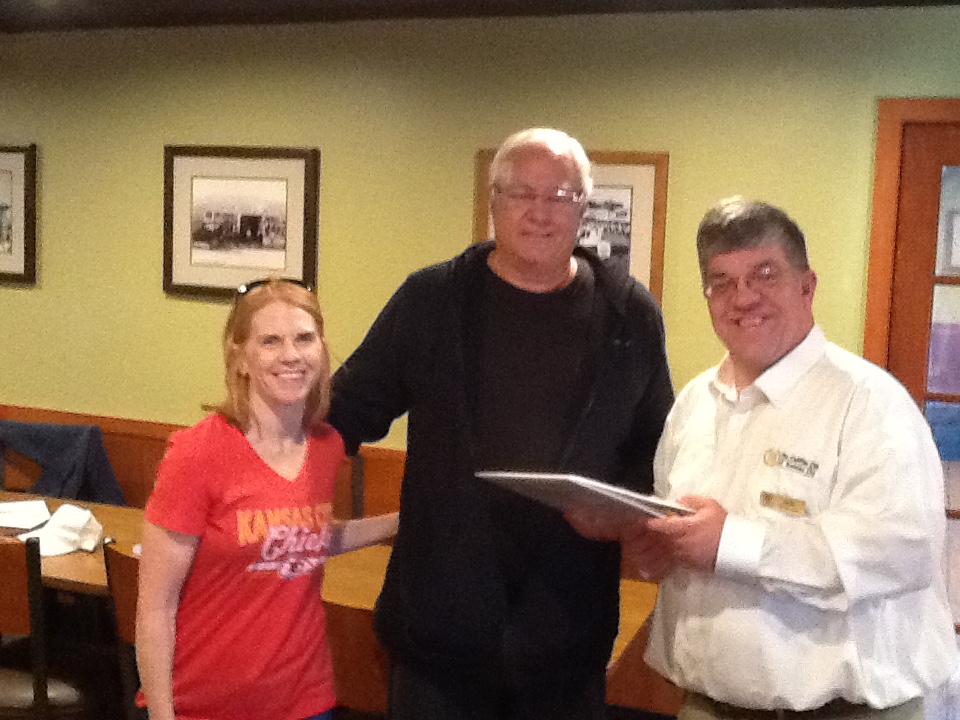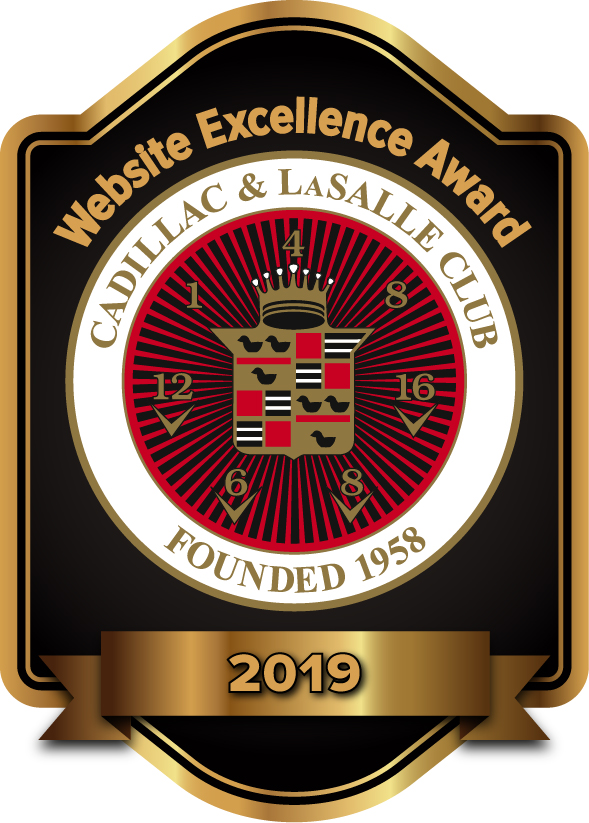 The 2019 Louisville Grand National is now history and the Cadillac Club of Kansas City is to be congratulated on the region attaining the 2019 Website of Excellence Award! Of the 60 regions and chapters of the CLC, 43 have a web presence. Of those 43 regions and chapters, 13 were eliminated for having websites that do not conform to minimum standards as set by the CLC Information Technology Committee. Of the remaining 30 websites, only 20 scored high enough to earn the Website of Merit award. Of course, only one received the coveted Website of Excellence Award! Congratulations to webmaster Tom Keegan and all the contributors who made this recognition possible.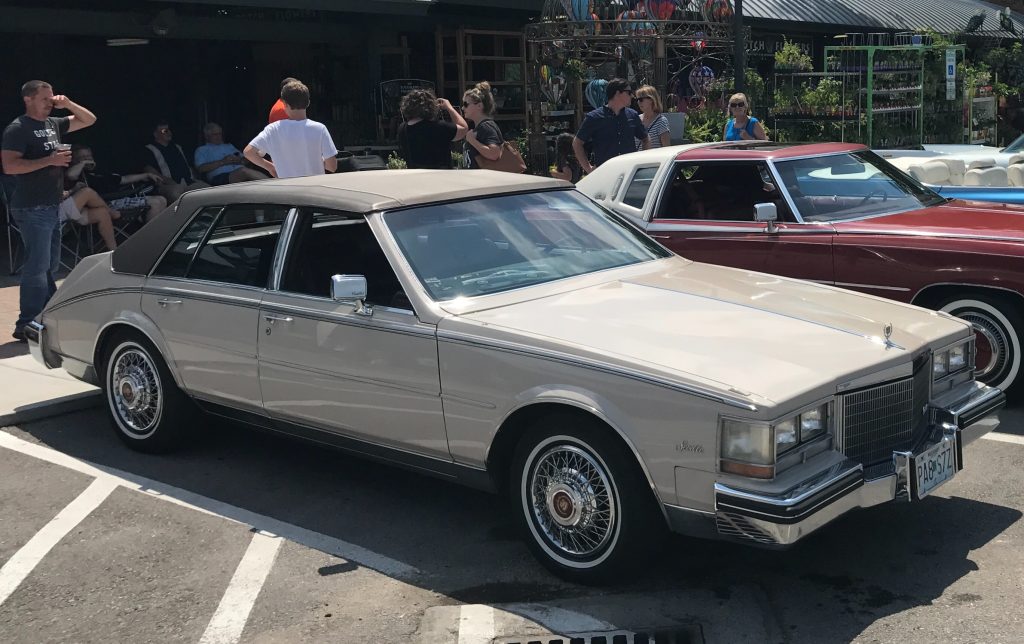 Congratulations to Club Secretary Randall Penn whose 1984 Seville was awarded its Senior badge in Louisville.
Your next Monthly Membership Meeting is Sunday February 23rd, 2020 4pm at Denny's Restaurant 10480 Metcalf Ave. OPKS
Channel 41 Shows the Love to KC Club's World of Wheels Display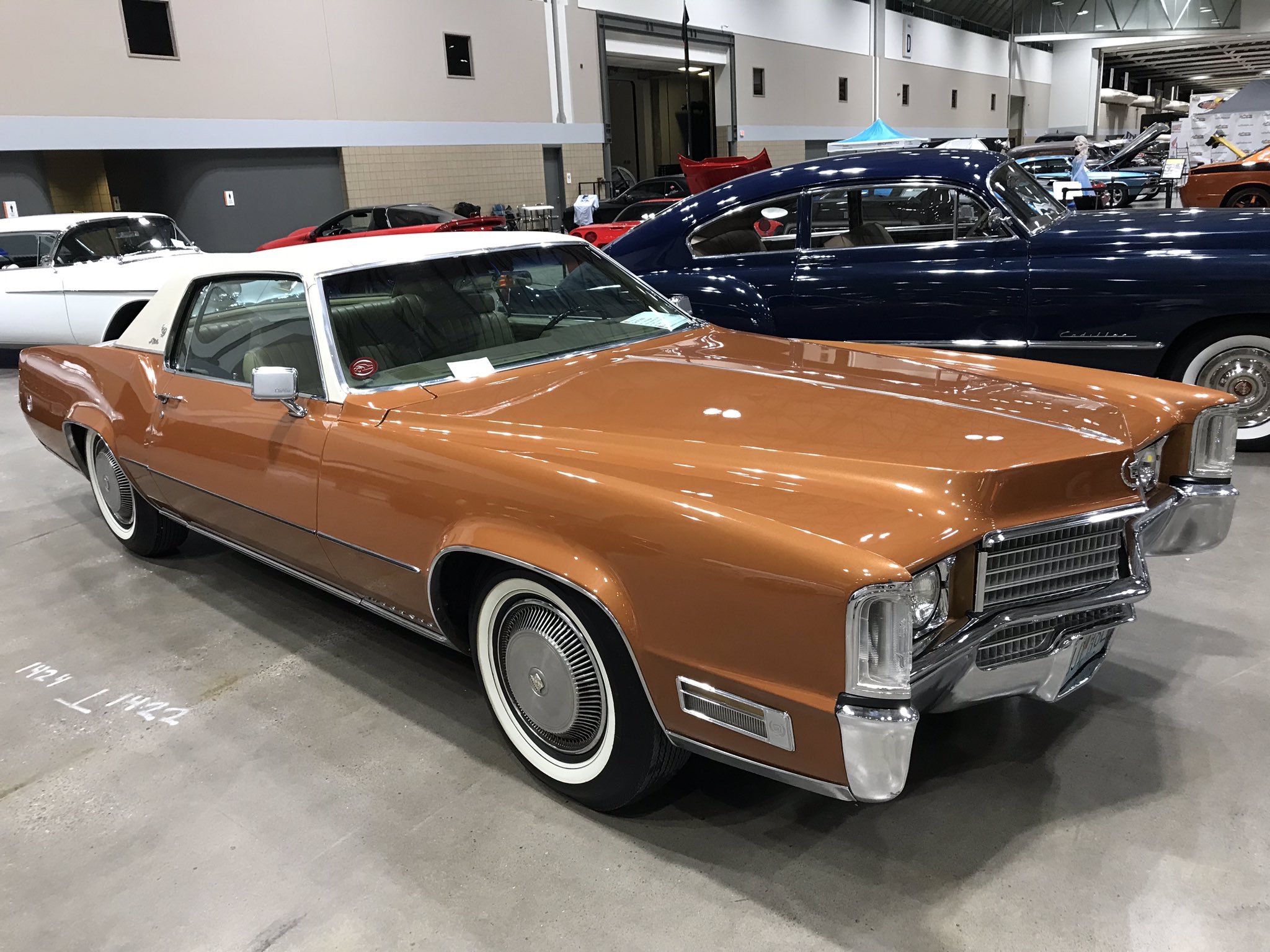 Channel 41 News Reporter Charlie Keegan stopped by our 2019 World of Wheels display early one morning, and produced this spot featuring his dad's 1970 Eldorado.
https://www.facebook.com/watch/?v=818801448469678&t=8
If you missed February's World of Wheels car show, you missed a fine display of Club Members' cars. Besides the 1970 Eldorado, Doug Redman brought his '58 Eldo Seville, Paul W. brought the '62 Park Avenue, Guy Teel ventured through the slush with his '60 convertible, Steve exhibited the '49 Club Coupe, and the '39 V-16 made an appearance. Thanks to the good folks at Cable Dahmer who send along a 2019 XT4 to complete the display.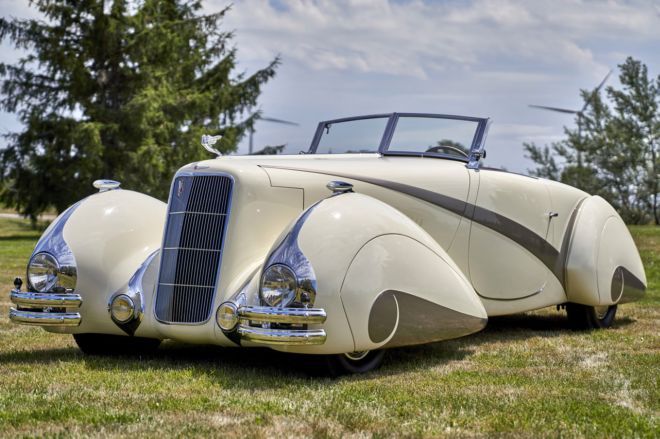 Remember, members, this website, the 2020clcgrandnational.org website, our Facebook page, and the mobile team app are your up-to-date connections with the Club. Here you will find info on upcoming events, national and international club news, and stories about you and your Cadillacs. As we approach our 2020 Grand National, good communication between members will become paramount to our organizational efforts. Please take a few minutes to familiarize yourself with these great resources, and if you have not downloaded the app to your mobile device, use the link below to get started. Any suggestions you may have concerning club communications should be addressed to webmaster@kccadillacclub.org
https://www.facebook.com/kccadillacclub
Meet Your Club Officers
A motion was made, seconded and unanimously approved to elect by acclamation the following officers: President – Steve Christensen Vice President – Doug Redman Treasurer – Paul Williamson Secretary – Randall Penn. Per our Club's By-Laws, the term of office is January 1, 2019 thru December 31, 2021. Congratulations to the new officers!
KC Cadillac Club Members Help Unveil the New XT-4
Many thanks to Club Members Norm, Doug, Randall, Steve, and Paul who brought out the old classics to welcome the still-wet-behind-the-ears XT-4 at Cable-Dahmer Cadillac of KC October 4th. As well as being able to view the first 4s, attendees were treated to some good food an even some jazz music.

KC Cadillac Club Wishes Farewell to One of It's Own
Club member Bill Logan passed away January 10, 2018, according to a message sent to the Club from his daughter Debbie. Bill was a graduate of Washington High School, class of '51, and was interred In the national cemetery in Leavenworth. While the 84-year-old Bill joined the Club later in life, we will remember him as an enthusiastic member who attended many Club events and meetings. We will miss his easy-going spirit, and eagerness to become part of our membership. Our sincere condolences are offered to Debbie and the rest of Bill's family.
Joel Nichols at the World of Wheels
Visit the Calendar and Upcoming Events page of this website for more information about upcoming events.
Annual Holiday Fest at Argosy a Night to Remember
Just when did Cadillac introduce cars with hydraulic brakes? Well, you may have to ask Louis Bosso, but he may not have the answer. We're not even sure Craig Wood had the answer. Such was the level of trivia explored at this year's Holiday Party hosted by the Argosy Casino in Riverside January 14th. Craig, of course, had most of the answers, Rich Gibbs, too, was no slouch. either. What had been billed as a great opportunity to catch up with members you may have not seen in a while turned out to be so much more. Approximately 50 Members and guests piled high their plates at the Asia-inspired buffet–which did not disappoint. Door prizes, consisting mostly of bottles of wine, were awarded to many. Craig took home the Attendance Award, and Tom Keegan unveiled the new app. So bring your smartphones Sunday because we will be able to help you download the Club's new app to your device. The app offers members a one-touch connection with Club activities, events, websites, social media and member information. Click on the link below to begin using your app.
Big Changes for Cable Dahmer
by John Rau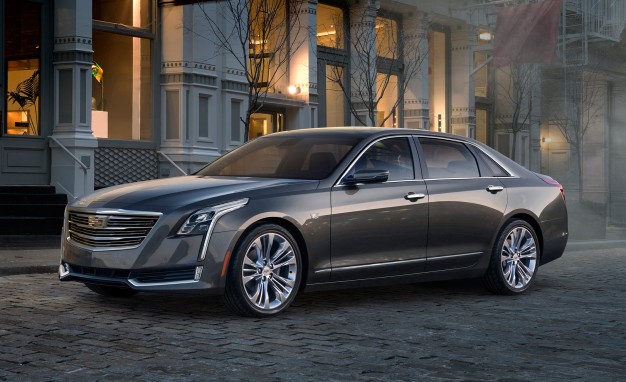 Recently I met with Dan Boyer at his new store: Cable Dahmer Cadillac of Kansas City (the former Hendrick Cadillac at I-435 and State Line Rd.) We had a great conversation. Here are the highlights:
Cable Dahmer Cadillac on Noland Rd. is no more. I believe Dan said that only the Buick/GMC piece is there now, and run by Marty Dahmer, from the Chevrolet dealer down on Noland.
Hendrick was losing money on both their Buick/GMC and Cadillac stores on State Line Rd. so Cable Dahmer bought these 2 stores, and Dan is managing both stores. This means, he has a "stand alone" Cadillac dealership. He stated that the demographics are incredibly different at State Line Rd. vs. the Noland Rd. location. He went from selling a few Cadillacs a month to over 20 per month at this new store. He's selling to doctors and other very wealthy people in the Johnson Co. area, as opposed to the older, more "down home" people who live in the Independence area. Interesting…
I asked him if he was still willing and able to continue our partnership with his new store, and he quickly replied "Absolutely!" Good to hear.
I asked him how we could better support his new store. He stated the here in the next few weeks, he's hosting an Open House event at the Cadillac store. He doesn't have a date yet, but he would love it if we, as a club, would attend.
I asked him about the possibility of us showing our Cadillacs there in the spring. Unfortunately, this store has less space for parking than the Noland Rd. location! Most all of his employees have to be shuttled in from an off site parking lot down on 103rd St. He said they have a large warehouse in Martin City where they house more new cars, which we could use, but there would be little, if any, street traffic. So we'd have to have directional signage to get people to attend. He also said that the old Lincoln/Mercury lot on Noland Rd. that they owned would potentially be available for us. Not sure if that would work or not since there's no active Cadillac dealer there.
I told him about the Kansas City 2020 Grand National, about Cadillac's involvement, etc. and all the fun that happens at a Grand National. He would like to support us, and would like more information. I think we should give him this past month's Self Starter that highlights the Grand National in Washington DC. We had a great meeting, and it looks like Dan and Cadillac will be partners now and in the future. We wish him and his family continued success in the new year promoting Cadillac's exciting new line up.
Club Visits UMKC Baja Team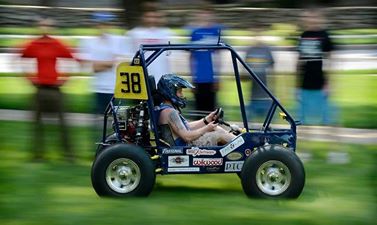 UMKC's Society of Automotive Engineer's (SAE) Baja Racing Team is a college-level competitive activity. Each year teams from all over the world build their own vehicle, and submit it to rigorous technical assessment, as well as real-life endurance testing. As a sponsor, the Club visited the Baja Team workshops Sunday December 17th. Immediately afterwards we gathered at Spin Pizza 4950 Main St. for dinner. At Spin, we will also convened our Monthly Membership Meeting then departed to cruise the Country Club Plaza. Click on this link to view the meeting minutes which give a complete report of the visit, and our evening activities.
Cadillac Sales Continue to Grow 17 Months in a Row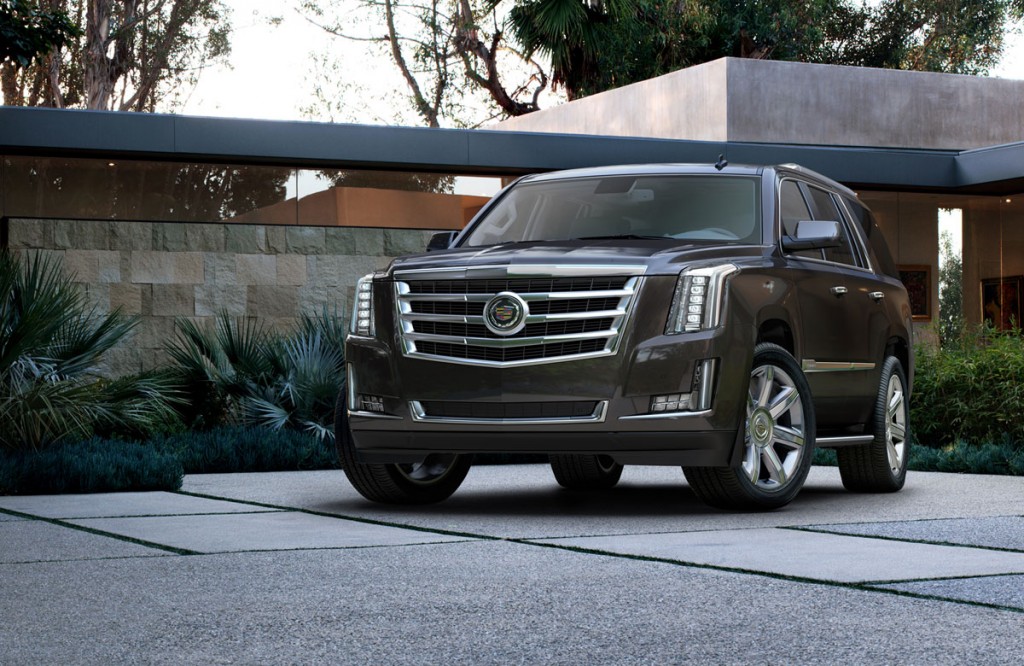 ---
Cadillac sold 33,092 units globally in October 2017, maintaining a 17-month run of consecutive growth. Year-to-date sales are up 49,192 units compared to October 2016, totaling 289,705 units. "For the past 17 months, our global sales have continued to grow, further elevating our standing as a major luxury automaker," said Cadillac President Johan de Nysschen. "We are building a strong foundation for Cadillac's long-term success and will continue to increase our momentum with the introduction of the XT4 crossover in 2018." China continues to be a strong performing market with sales up by 36.1 percent year over year. Canada, South Korea, Russia and Japan also saw significant growth, while the U.S. market performance remained stable compared to the previous year.
New Member John Fulkerson
The Club officially welcomed new member John Fulkerson at our April meeting. John, of Plattsburg, MO is the proud owner of a stylish 1970 convertible which he is looking forward to driving this summer. Great to have you aboard, John!
Club Welcomes Hagerty Insurance Rep at April Meeting
Nicole Borghardt, local representative for Hagerty Classic Car Insurance addressed the membership at our April 23rd meeting. Nicole covered a great deal of information concerning her company and its policies, and she answered many Club Member's questions. Thank you Nicole! Some important points:
Collector cars may be driven to work up to 60 times a year.
Coverage is based on "agreed value"
The insured is allowed to use any repair shop, or fix the car his/herself.
Valuations of post-war cars is available online.
Refer to April's Minutes for a complete report
For a complete wrap up of Nicole's talk, refer to the Meeting Minutes.
Missouri Valley Official Hosts of the 2020 Grand National
Marsha Redman, newly returned from the CLC Winter Board Meeting in Arizona, announced the CLC's acceptance of our bid to host the 2020 GN. This is great news for the MO Valley Region. So let's start sharing ideas for tours and activities.
As you may recall, Club members voted to host the GN at our holiday party in January 2016. In addition to Marsha's personal appeal, Rich Gibbs prepared a power point video presentation, and Paul Thompson worked up the logo and themes. This is a great opportunity for us to showcase our city, our Cadillacs, and our hospitality. We're goin' to Kansas City, once again.
Club Members Act to Make Senior's Dream Come True
It was a bit of a lark, really, to hear Marge tell the story. The administrators of Foxwood Springs, a retirement community in Raymore, MO asked residents to propose an activity that would be a dream come true. A make-a-wish pitch, if you will. Marge penned off a note explaining how she and her late husband used to travel in a friend's early 30s V-16 Cadillac. It might be fun, she opined, to ride in one during her upcoming 99th-birthday celebration. This unique request set off a frenzy of communication which reached the highest levels of the Cadillac LaSalle Club, made its way back to Club Vice President Doug Redman in Missouri, and culminated in one unforgettable birthday gift.
High noon February 11th saw a stiff north wind descend from the cold gray sky as Lynn and I brought the car to the doors of the retirement home. But 99-year-old Marge felt no cold. She shunned a blanket as she reached up out of her electric scooter. The chrome handles of the huge black limousine fell into her grasp, and she quickly found herself seated on the leather bench. With family and friends comfortably seated in the rear passenger compartment, we toured the neighborhood as Marge regaled us with tales of road trips gone by. One Thanksgiving-day trip found Marge, her husband, and the owner of the V-16 Convertible Coupé traveling to Columbia MO from Kansas City to attend the annual MU, KU football classic. The 280-mile round trip began well with unseasonably warm temperatures, so the trio left KC without warm clothing. Halfway through the game, however, the weather turned cold, and, shivering, they left the bleachers. The ride home wasn't much better, as the drafty Caddy had no heater. Credit a pot-bellied stove at a general store on the route back with providing the warm up necessary to get them home.
Of course, the 39's hot-water heater pumped out plenty of heat as we cruised the quiet streets. "That was my house, " Marge said as we passed a tidy duplex. She left the house for an apartment in the senior center nine years previously. We held hands, and I was not surprised by a warm kiss.
Quite a crowd had gathered as we returned to the center. There were many thanks given, and pictures taken. Marge seemed quite satisfied with the experience. Of course, Lynn and I were probably the happiest. We were grateful for the opportunity to meet this fine lady, her family, and the folks who care for her at Foxwood Springs.
The car? Well, the sixteen took it all in stride, idling patiently in the cold. Just another day on the job: Transporting the world's most precious people in the fantastic style to which they have become accustomed.
Club Welcomes New Member at October Meeting
The fine fall weather we experienced October 23rd was, no doubt, responsible for the colorful showing of old Cadillacs in the Denny's parking lot. The meeting was well attended and we were able to welcome new member Gary Huddleston. Gary spends much of his time behind the wheel of his massive '71 Fleetwood. We look forward to getting toknow him and his car better in the coming years.
KC Perhaps the Most EV-Friendly City in the Country
Club members routinely top off the tanks of their gas-guzzling behemoths with the liquefied remains of extinct dinosaurs. They may, however, be surprised to learn cow town is stronghold of electric vehicle culture. EV enthusiast and Cadillac ELV owner Michael Cesaretti informed the Club's membership KCPL maintains a network of 1000 EV charging stations. All these juiced vehicles have saved 75 million gallons of gas this past year in Kansas City, which has made a significant dent in our carbon footprint.
24 Members and Guests Brave the Hot Temps to Participate in Club's Spring Drive
Even though temps soared into the mid-nineties Saturday June 11th, Club Members turned out by the dozen to to travel the back roads for our Annual Spring Drive. The cool shade of the picnic area at Burr Oak Woods provided welcome relief from the 90-degree heat as we gathered shortly after 9am for coffee and treats. At the nature center we were addressed by naturalist, Dianne, who quizzed members on their knowledge of road kill and vultures. Our following drive to Higginsville provided much opportunity to attempt identification of numerous small animals who had been struck by cars. In Higginsville, members lunched on pizza and salad, and were treated to a wine-tasting by Arcadian Moon Winery proprietor, Doug, or Randy, or, well, you know him.
At the winery, we cut the club's birthday cake, for, perhaps. the first time in 29 years. Founding member Craig Wood gave an all-too-brief talk on the history of the Club. Then it was time to hit the hot, dusty trail again. At our final stop at Happy Days Dream Cars showroom in Warrensburg, we viewed a beautiful collection of classic and muscle cars–all of which were for sale! It seemed as if Club members resisted the lure of the inventory, there were, however no Cadillacs.
All-Cadillac Car Show at Cable Dahmer Sets New Record
Saturday May 14th our sponsor Cable Dahmer Cadillac hosted our second annual all-club, all-Cad car show on the grounds of their dealership 3107 S. Noland Rd. Independence, MO. Last year we had a fantastic turn out, but this year, with many new members, we exhibited 37 Cadillacs and LaSalles in our beautiful car display. Many thanks to Dan Boyer and his friendly staff for providing the venue and the cookout. Thanks, too to John Rau and Doug, who organized the event at our end. Keep the second Saturday in May open for next year's show!
Thanks for your participation in this most important Club event.
Club Welcomes New Members
Two new Club members introduced themselves at our April meeting. Jim Byler and his wife, Annette, currently enjoy a pair of his-and-hers Eldorados. Kenny Cox has a few Caddies, including a 1960 Fleetwood that is looking for a new home. Additionally, Eldorado convertible owner Larry Eisenhauer made an appearance at the Spring Tune Up. Welcome to these new Club members. We look forward to getting to know them better throughout the years!
If you have questions about joining the Club, Visit our Join page, or call Club New-Member Liaison John Rau to get more info. 816-205-1812.
Missouri Valley Region Awarded Norm Uhlir Regional Activity Award at Grand National
A great and pleasant surprise greeted KC Cadillac Club Members who attended the CLC Grand National Awards Banquet Saturday April 16th in Las Vegas, NV. As awards presenter Gary Fisher described the region that was nominated and won the Norm Uhlir Regional Activity Award, he stated, "And this region literally pushes cars as an effort to help their region." Well, that could only be us! As it happens, Regional VP Tim Coy nominated our Club. Later the nomination was voted on by the entire National Board. "This is really cool stuff and a feather in our cap," said Club Vice President Doug Redman. When the award was announced, Redman accepted the award. Mentioned by the CLC were our participation in national events, our website, and our promotional materials. Congratulations to all our members.
The award, engraved with President Steve Christensen's name, will be present at our meeting this month, and we will also have it on display at our all-Cadillac Cable-Dahmer Car Show May 14th.
The Norm Uhlir Regional Activity Award was created in honor of Cadillac & LaSalle Club Past President Norman Uhlir to encourage greater activity by chartered regions of the CLC. It is awarded annually to the region demonstrating outstanding overall activity in the following areas:
special membership services,
regional meets,
membership stability (retain or add members),
quality reports and articles submitted by members of the region toThe Self-Starter,
participation in Grand Nationals,
special activities such as regional club projects, especially if beneficial to all CLC members.
Auctioned Sign Brings $725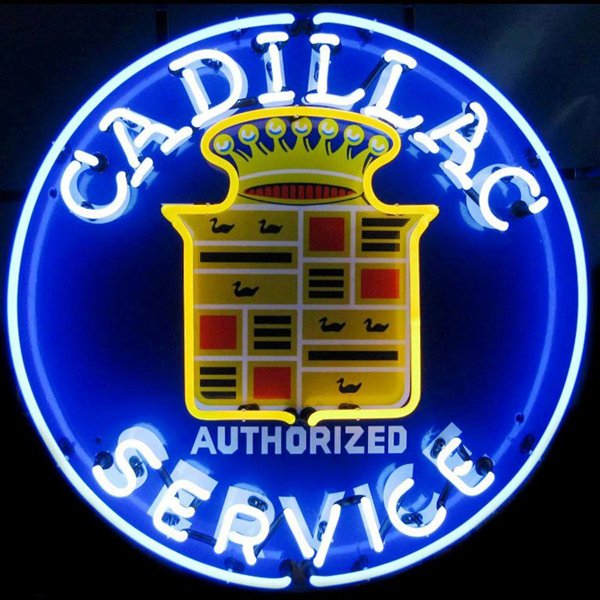 The Club's donation of a neon "Cadillac" sign sold for an astounding $725 at the Grand National's opening night auction. Proceeds from the sale of the sign will benefit the CLC Museum and Research Center in Hickory Corners, MI.
MO Valley Receives Website Excellence Award
For the second year in a row, our Club's website has been recognized by the CLC