Happy St. Patrick's Day, Cadillac Club Members!!!

I hope you're excited about the new year and all its opportunities. Please remember dues are due in January for our local club, $20. Your membership dues for the national club are up to you to fulfill. Members must be current in both in order to be in good standing with the club.
Our next scheduled meeting will be 4pm Sunday March 26, 2023 at Your Classic Ride 2711 Warwick Trfy. The Club will provide pizza and drinks.
Plaza Cruise
Eleven members and guests gathered Sunday Dec. 11th for our annual holiday Plaza light cruise. After a tasty meal, and some good company at SPIN! Pizza we paraded through the Country Club Plaza to view the holiday lights, and put on a Cadillac Club show of our own! An added bonus included a Chiefs comeback victory.
Our January 21st sit-down dinner at Cascone's was a real treat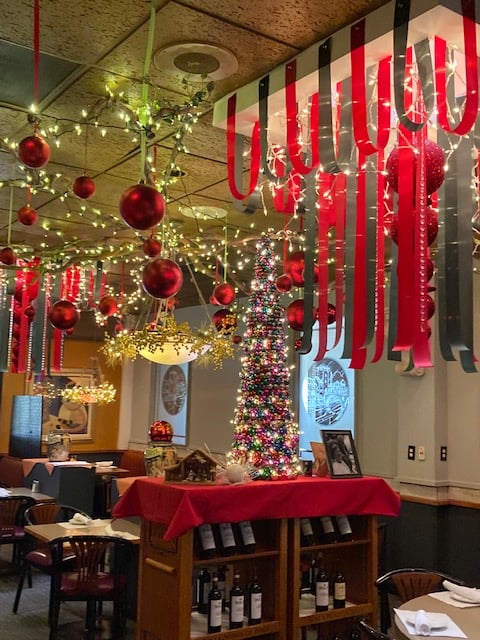 ---
Hello, and welcome to the Cadillac Club of Kansas City.  If you live in the area, and are interested in joining our club, our activities include monthly membership meetings, drives to historical sites, visits to venues of local interest, and participation in the area's local car culture.
As we return to normal, pre-covid activities, we encourage all members to follow CDC guidelines that refer to mask wearing and social distancing. 
Our Club here in Kansas City is an affiliate of the international Cadillac & LaSalle Club, Inc, which is an international organization of over 6,000 members. Membership is open to persons anywhere in the world and ownership of a Cadillac or LaSalle is not required. Please feel free to leave feedback concerning this site and its links. We are always looking to improve.
And be sure to visit the website of the Cadillac & LaSalle Club, our parent organization: cadillaclasalleclub.org
You are also welcome to download our new Club app:

Finally, remember to click on our Club YouTube Channel, and Like Us on Facebook.