——————————————————————————————————————–
Flight of Fancy to the Amelia Earhart Hanger Museum
Our Fall Drive this year was a colorful jaunt up to Atchison to visit the Amelia Earhart Hangar Museum, located at the Atchison airport. The museum, which just opened in April, has already welcomed 20,000 visitors. It is a thoroughly modern and interactive space which encourages much hands-on activity–ideal for the grand kids! Of course, the centerpiece of the museum is the last remaining Lockheed Electra 10E known to exist. This fully restored plane is identical to the one Earhart flew on her ill-fated around-the-world flight.
The museum graciously offered their gathering space to us so we could eat our fried chicken lunch and hold our monthly meeting. Many thanks to the knowledgeable museum staff, especially Sterling who gave us a great tour.
Gateway to Fountains Group Enjoys Kansas City Hospitality
I can't even tell you whose idea it was to invite a group of classic car buffs to Kansas City for a weekend full of activities–but what a great idea it was! Aside from seeing a beautiful bunch of Rolls Royces, Packards, and Bentleys, we mostly enjoyed meeting our across-the-state car enthusiasts. Attendees expressed satisfaction with the choice of hotels, car collection tours and KC attractions. Lunch at the Armacost Museum, and a visit to the Arabia Steamboat Museum were the most popular activities. The Kansas City Automotive Museum welcomed the group with an excellent tour, and many were able to enjoy the hospitality of Chris and Chuck at their Louisburg home. There were a few mechanical mishaps, a broken wheel, an empty gas tank, starting problems, and, unfortunately, one blown motor. But we hope this won't discourage folks from getting out on the road, and enjoying the old cars. Thanks to all who planned the weekend, and volunteered to help. Next on the agenda: Fountains to Gateway
Westport Welcomes the Cadillac Club
Well, the unbearable heat waited at least until the afternoon as eight Club Members displayed their Cadillacs at the first-ever Westport car show August 19th. The tall buildings offered quite a bit of shade, though some members did seek shelter at the local watering holes. Congrats to Tom Keegan whose 1939 limousine won "Most Unique Car."
The Great "Car Wash" of 2023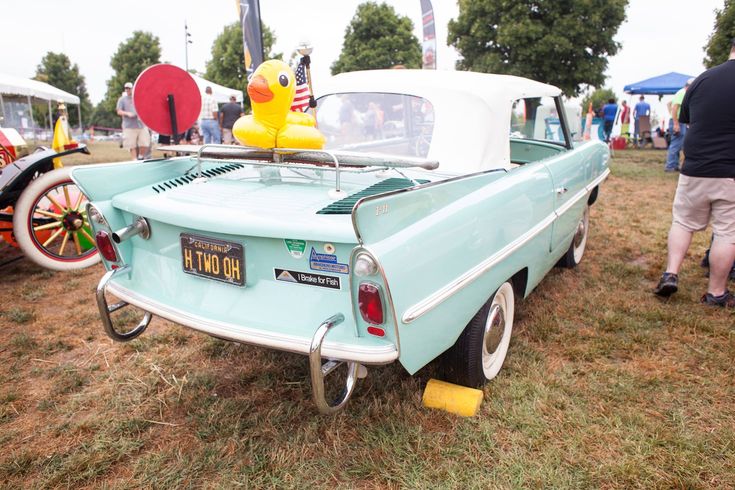 Not every car show goes according to plans. Take, for instance, July's Great Car Show at the Liberty Memorial. While the morning showed some promise of good weather, it was not to be. First, a light rain chased Cadillac Club Members under Guy Teel's tent. Later, a genuine gale had a dozen show attendees employed as tent ballast to keep the strong wind and cold rain from tossing the tent into the field of soggy show cars. Spirits, however, remained high as we battled the storm, though it was hard on convertible owners, Chris & Chuck, and Guy Teel. It was also great to re-connect with long-time Club Member Carl Svahnberg, who attended the show, and our Kill Creek picnic, with his daughter Erica.
Spring Drive Saturday June 10th
Our visit to the Overland Park Arboretum was under cloudy skies, but no rain fell. Instead we enjoyed a guided tour of the area from a park docent. Cool weather kept us marching along through the beautifully manicured woods and gardens. Twelve members and guests were able to attend the gathering, including CLC Maryland Members Maya and Larry Good whose 1953 Pontiac broke down in KC while traveling to the Grand National in Albuquerque. They were guests of the Hoaglands, as John was fixing their car. Later we lunched at Red Door Woodfired Grill, and then stopped at Bourgmont Winery.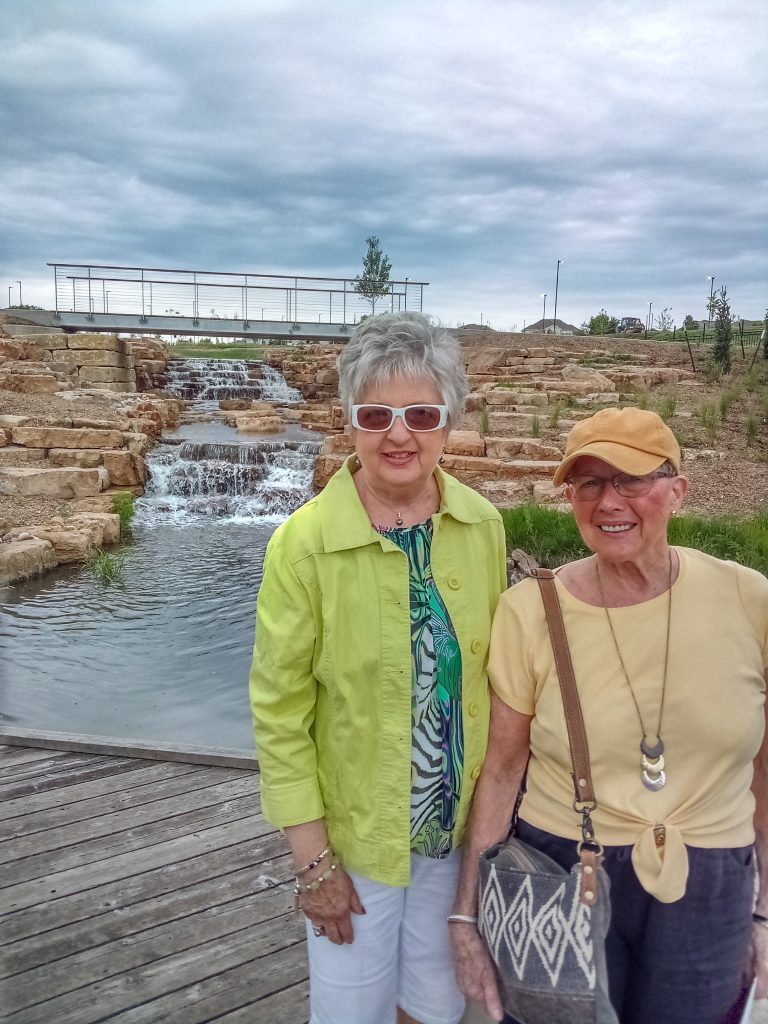 Cruising the Parkways of St. Joseph
Many thanks to the 12 Club Members who joined us May 20th as we traveled north to St. Joseph to drive the historic Parkway system. The drive was a great opportunity to clear the cobwebs out of the old jalopies, and give the good folks of St. Joe something to talk about. We gathered at 9:30am at the Northland Caribou Coffee for the back roads route to St. Joseph. Rich Gibbs, who attended high school in the Pony Express City, was a great tour asset. Participants enjoyed our scenic, and unique drive as we toured the colorful parkways, and ate at Cheddar's Restaurant.
The luncheon also gave us the opportunity to complete our May meeting tasks. There will be no other Club meeting in May.
2023 Holiday Party Gathers Old Friends, New Friends
Thanks to all who attended the Club's annual Holiday Party Saturday January 21st. Attendees feasted on fried chicken, sides, salads, pasta and dessert. In lieu of a buffet, this year we were served by the attentive staff at Cascone's. Our cozy room was perfect for members to catch up on recent events and plan for the future. CLC Vice President for Activities Marsha Redman discussed the proposed National Driving Tour which we plant to host in Kansas. Marsha will present our plan to the CLC board at the winter meeting. The Club also welcomed Nicole Hollingshead, President of The Mustang Club of Greater Kansas City. Nicole shared with us her club's activity calendar, communication program, and membership retention initiatives. Thanks to Nicole for joining us, and many thanks to Mita Hoagland who organized the supper.
Fall Drive Participants Visit Truman Library, Home
Twelve members and guests gathered on a chilly November 12th morning at Roasterie Coffee to begin the drive to Independence and the Truman Library. We were welcomed by experienced docent, Kathy, who guided us through the newly refurbished museum. The Library has worked hard to provide exhibits that tell the chronological story of Truman's youth, military service, and, of course, presidency. Replicas of the oval office, as well as Truman's local office provided a glimpse into his service. Members also enjoyed the three vehicles on display: two Chryslers, and one Lincoln Limousine.
After a warming lunch at El Pico Mexican Restaurant on the square, we headed over to the Truman family home, located a few blocks away. This rather simple home has been left just as the former first family left it.
President's Pot Luck a Great Time to Gather, and Reconnect
Many thanks to Cynthia and Guy Teel for opening their beautiful home to the membership Sunday October 25th for our meeting and pot luck supper. The hit, of course, was the barbecued meats prepared by Club President and Pitmaster Extraordinaire Guy Teel. I knew there was a reason we elected him. Also, many thanks to all who attended and brought the delicious sides, salads and deserts. Our next meeting: October 23rd at Your Classic Ride.
Hot Enough for Ya? Club Picnic Attendees Survive 99° in the Shade
While the warmer-than-average temperatures kept some members from attending the Picnic Saturday July 23rd, the 11 members who attended enjoyed a fine selection of home-made sides, desserts, and some delicious grilled items. As an added treat this year, Channel 41 Reporter Charlie Keegan prepared his award-winning Mediterranean Sliders.
Spring Drive a Blast From the Past, not Without Snafus
Ten members and guests participated in our June 11th Spring Drive. We began at the KC Automotive Museum where we enjoyed coffee, povitica, and the modest turnout for the Oddballs Car Show hosted by the museum. From there it was a short drive to the Mahaffie Stagecoach historic site and living history museum. This fascinating park is peopled by volunteers in 1800s dress, who work the farm as blacksmiths, bakers, or gardeners. JoCo history is more interesting than you might believe.
Members met at Hyde Park Service to enjoy each other's company either tuning up the old cars, creating original art–or both! The splendid weather encouraged members to bring out their old Cads, and much deferred maintenance was performed. Oil changes, brake bleeding and tire rotations were performed by volunteers John Hoagland, Tom Keegan, and Hyde Park employee James Duyck. Meanwhile in the art studio, Lynn and Meredith led their budding Rembrandts on a creative task to paint our own Kansas City Parade of Hearts.
2021 Kill Creek Park Picnic–Socially Distanced Fun
Hamburgers, brats, and, um, hand sanitizer? Our new Covid-19 world has thrown us quite a few curve balls this year, and has done it's best to keep KC Cadillac Club Members apart. That all changed Saturday July 11th when Club leaders took some extra steps to ensure the safety of participants at our annual cook out in Kill Creek Park. In addition to the now ubiquitous face masks, disinfectant wipes and sanitizing liquid, Charlie, Lynn and Tom Keegan acted as gloved and masked servers to reduce the risk of food contamination. The food, you ask? The hamburgers, brats and sausages were cooked to perfection, and the deli-supplied sides were gobbled up. The weather was warm, but not oppressive, and members even had enough stamina to sit through a mini-meeting. Talk, of course, was mostly about when next to meet, and how to remain properly socially distanced. Suggestions included meeting outdoors at Kill Creek, or at the Overland Park Farmers Market.
Holiday Party 2020: Cadillac Club vs. KC Chiefs
______________________________________________________________________________
Twenty-seven club members and guests gathered Sunday January 19th to celebrate at this year's holiday party at Ameristar Casino. Attendees enjoyed grazing through the multicultural buffet which had a BBQ theme. The Prairie Room, which is adjacent to the buffet, served as our gathering space, and afforded a quiet dining atmosphere. Those members who wished to cheer on the Chiefs as they collected the AFC title could view the game on the giant big screen just outside our door. As in years past, Trivia Master Craig Wood directed our fuzzy brains through an eclectic Q & A session interspersed with door-prize raffles. In addition to the quiz, Marsha Redman gave an update on GN preparations. Tom spoke about the upcoming judges workshop on April 25th.
The holiday party is always a great way to catch up with club happenings, and re-connect with old friends. Plan on attending in 2021.
Holiday Cruise Thrown a Curve Ball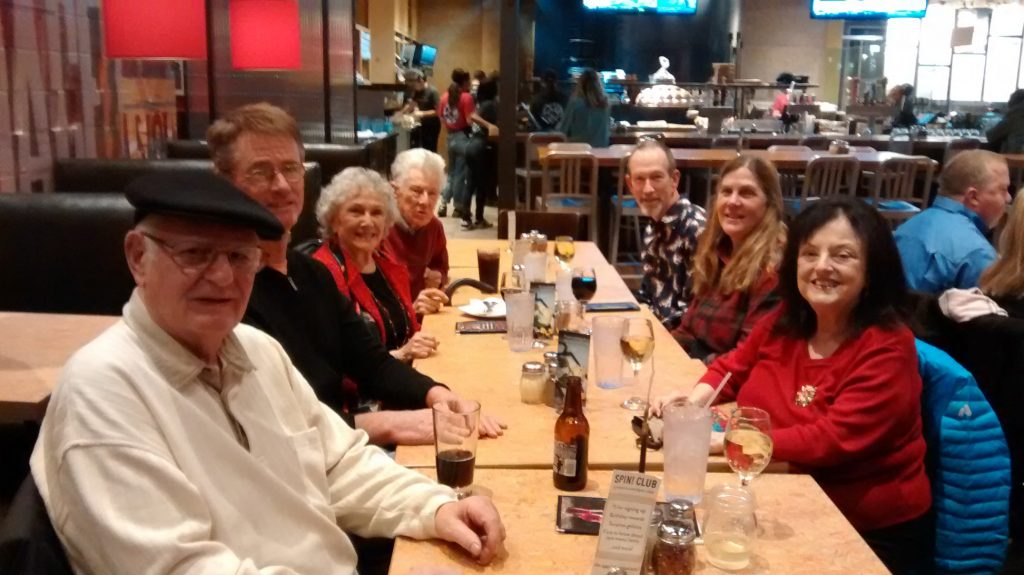 Thanks to those who attended our holiday cruise Sunday night December 15th at Spin! Pizza. Instead of driving through the Plaza, we headed south to the Armour Fields neighborhood to view the domestic light displays. They did not disappoint–neither did the Chiefs!
Fall Drive Educational and Fun
Thanks to club members who attended the Fall Drive Saturday Nov. 9th at the Wyandotte County Historical Museum. Our tour of  the area's natural and modern history was narrated by Museum Curator David Hartman. This venue is one of the last GN 2020 tour sites many club members had not visited, and it did not disappoint. In addition to the usual exhibits, members visited a temporary display of quilts on loan from local families. 
After our museum visit, we drove to the Legends shopping center and dined at Chiusano's Brick Oven Pizzeria . Many thanks to David for making our visit educational and entertaining. 
Cool Day Greets AACA Car Show Attendees 
Tri-Five Chevy's were the stars of the cool and cloudy 47th Annual AACA car show Sunday October 6th, but that doesn't mean other marques didn't shine. Four KC Cadillac Club vehicles made the early morning jaunt to the Douglas Co. Fairgrounds in Lawrence KS: Tom brought his '70 Eldorado, Norm took up a lot of space with his '77 limo, Randall drove his Seville, and Paul Williamson's '69 convertible won second place in its judging class.  Remarkably best-in-show honors went to a '39 Studebaker. If you have never attended the AACA car show, or their swap meet the first weekend of May, you are missing a couple of finely tuned events.
Hot August Nights in Excelsior Springs
Thanks to all who joined us Sunday August 11th for scenic drive through the Northland. We began our drive in Liberty, and followed curvaceous Route H to historic Excelsior Springs where we dined at Wabash BBQ. The Restaurant is located in the former Wabash railroad station, which lends it a rustic charm. The food was mighty good, and good value, too. Other diners and workers at the restaurant were pleased to see the colorful Cadillacs, and we were pleased to chat with them after supper.
The 12-mile route from Liberty to Excelsior Springs didn't pose any particular mechanical difficulties for the old timers, but Guy's convertible did have a computer glitch on the way home.

Summer Cookout at Kill Creek
What says 'summer is here' more than a cookout in the park on a sunny July afternoon? Members who attended July 13th's cookout at Kill Creek Park were treated to sizzling meats–and weather! By noon the temps hovered around 90 degrees, but our spacious shelter provided ample shade, and even a breeze. Seventeen members and guests attended, and brought a delicious variety of sides and desserts to share.
Spring Drive June 8th 2019
The Mansions of Independence
Thanks to all those Cadillac Club Members who joined us to explore Independence's place in 19th Century American History through the lens of two period homes. Our tour started with coffee in the parking lot of the impeccably restored Vaile Mansion. Members marvelled at the 14-foot ceilings of this Victorian palace as we were guided through its many rooms by a period-inspired tour guide (the ghost of Mrs. Vaile?). We lunched on the square where members split up to enjoy their favorite restaurants, German, Mexican, or American. After lunch we continued to the nearby Bingham-Waggoner Estate. This mansion has had a variety of historical tenants, including famous painter George Caleb Bingham. On the grounds of the estate, the swales made from covered wagons travelling west can still be seen. Thanks to our great tour guides, one who was only 12 years old, and thanks to all who attended this fun, and informative event.
Club Members Enjoy a Trip to the Heartland of Auto Restoration
Many of you may be aware of the 4-year automotive restoration degree program offered at McPherson College. The program is internationally known, and is supported by Mercedes Benz, and Jay Leno among others. Each May the students host a car-show weekend which includes a cruise night on the main drag of McPherson. The next day, the school invites the public to show off their cars at a judged car show on the campus. At this time visitors may tour the restoration shop.
This year three KC Cadillac couples made the 400 mile round trip from Kansas City, and had a fantastic time attending what was one of the best car-show weekends we have ever seen.
Please consider attending the show in 2020.
April 13th Spring Tune Up and Art Party
Many thanks to those who attended our annual Spring Tune Up and Art Party at Hyde Park Service April 13th. As you know this is our annual opportunity to use the facilities of a professional garage to check out the health of our old Cadillacs and perform some basic services. This year professional mechanic James Duyck helped members balance tires, and get the cars on lifts so we could see what the not-so-shiny sides look like. We changed oil, investigated rattles, and drank a lot of coffee. Meanwhile, next door at Studio 39, Lynn and Meredith served up a beautiful spread of pastries and Mimosas as they hosted the art event. Many thanks to you, Lynn and Meredith for all you do for the Club. 
November 10th Fall Drive Well-Received and Popular
28 Members and Guests in Attendance
Our Saturday morning tour of KC's own heritage and renowned cultural sites didn't disappoint. Because our stops are being considered for 2020 Grand National activities, we were looking forward to our visits to get some insight into these important venues.
We began Saturday's drive at Rosterie Coffee where we gathered in the parking lot under the DC-3 airplane to enjoy a morning beverage and snack. At 10am we drove directly to the Negro Leagues Baseball Museum where they exhibit an educational and inspiring display of American history. The museum was moving, and of great interest–-even if you're not a baseball fan. After our museum visit, we traveled a short distance to the Peach tree Cafe'teria where a fine variety of comfort (soul) foods was served cafeteria style. Thanks to the welcoming staff at the Peachtree who got us all seated together, and did a fine job preparing our meal. After lunch we paraded to the National Museum of Toys and Miniatures adjacent to the campus of UMKC. The museum, and it's large collection of small things and toys, has earned a well-deserved international reputation. At the museum, we broke into two groups for a guided tour. Many thanks to our knowledgeable docents Lori and Hannah who patiently answered the group's questions, and brought the significance of the displays to life.
AACA Annual Car Show Sunday October 7th Proved to be More Humid Than Expected

KC Cadillac Club participation in this annual event has been excellent, however this year's event was a bit of a wash out! AACA Club liaison Norm reported 35 soggy old buggies attended the show, and still had a great time. Rain has been a common problem plaguing our car events this year. Let's hope we choose some dryer dates for 2019.
Hot August Nights Run to Spring Hill
Though the hot weather kept some of the older cars in the garage, our drive to Spring Hill and dinner at K & M Bar-B-Q was will attended. After a pleasant drive from the 'burbs to the country, members enjoyed all types of smoked meats and barbecued treats served in a private room. It was great to see so many members gathered to break bread–especially Club Vice President Doug Redman who is recovering from surgery. Thanks to all who participated, and to the good folks at K & M who served us.
Club Picnic Saturday July 14th at Kill Creek Park Wet and Wild
Cloudy skies kept the temps low, and a genuine summer thunderstorm added a bit of interest to our annual picnic at Kill Creek Park July 14th. About 20 members and guests attended the picnic. Volunteer grillmasters Charlie and Harry Keegan kept two charcoal fires burning–one for brats, and one for burger. Their efforts were well-received–many club member remarked on the tasty burgers. As pot luck would have it, we also enjoyed a delicious variety of sides and desserts brought by thoughtful members. Thanks to all who attended, and brought a side or dessert to share.
COR Car Show a Good Venue to Showcase Cadillacs and Club
The 16th Annual Church of the Resurrection Car Show, which benefits the church's Hunger Relief and Car Repair ministries, proved to be a great spot for Club Members to gather, show off their Cadillacs, and spread the word about the Club. Many thanks to John Rau who organized the Club's participation. Thanks also to newest Club member, Chip, who brought a a larger shelter tent which kept the guys cool. In all, about 12 members attended with their cars. The club was further honored as Guy Teel's '60 won honorable mention in it's class. Remarkably, Tom Keegan's '39 limo won, firstly, honorable mention, then first place, then Best in Show! Congrats Guy and Tom.
Spring Drive Through Kansas: Lions, and Tigers, and Bears
Our June 16th Spring drive began in the calm confines of the Johnson County Arts and Heritage Center in Overland Park. Who knew our most beloved 'burb had such a busy past? Our tour guide, Kevin, spent much time explaining our role in the border wars, and the indian mission which still stands on Mission Rd. The highlight of the visit was, however, a trip back to the 1950s with a tour of the all-electric house which is completely inside the heritage center. Strange feelings of deja vu settled over the members as they viewed the period-correct home not unlike the home in which many of us grew up. An hour-long drive to Louisburg found us lunching at the Timbercreek Grill, where we dined on hearty fare in a private room. Next stop was the Cedar Cove Animal Sanctuary where we visited with some of the world's biggest cats. Lions, tigers, bobcats, cougars, you name it the folks at Cedar Cove are busy taking care of them. Club guest and Channel 41 News Reporter Charlie Keegan was inspired to produce a news spot about the sanctuary. Watch the spot by following this LINK
A Soggy Start Doesn't Dampen Enthusiasm for May's Car Show
The rainy morning weather finally cooperated Saturday May 12th,and Club Members were able to put on a smashing car show at the Roasterie Coffee HQ in mid-town Kansas City. About 15 classic Cads braved the wet roads, and enjoyed the warm and sunny venue. Roasterie Coffee patrons enjoyed our display, and visited with club members to learn more about the cars. Others who had learned of the event on social media also showed up to view the Cadillacs. Johan, in town for business, traveled the longest distance to see the cars–all the way from Sweden! Many thanks to Mike Cesaretti who helped organize the event, and Doug and Marsha Redman who provided many of the sides and treats which were served out of the bed of Tom's '53 Chevy pickup. Many thanks to Tiffany and Evan at the Roasterie who welcomed us with open arms. We'll have to do it again–soon.
Cloudy skies kept the temps low, and a genuine summer thunderstorm added a bit of interest to our annual picnic at Kill Creek Park July 14th. About 20 members and guests attended the picnic. Volunteer grillmasters Charlie and Harry Keegan kept two charcoal fires burning–one for brats, and one for burger. Their efforts were well-received–many club member remarked on the tasty burgers. As pot luck would have it, we also enjoyed a delicious variety of sides and desserts brought by thoughtful members.
Spring Tune Up Gets Members Revved Up
Although the threat of rain did keep a few well-preserved Cadillacs at home, April 14th's Tune Up fielded the largest crowd in its eight-year run. While no major repairs were accomplished, members did change oil, as well as check on some leaks, and squeaks. Gary H. got the headlights aimed on his Fleetwood, and the Allantés had their tires balanced. When the dozens of donuts were consumed, most tune uppers headed for the art studio to pillage the sweets and champagne thoughtfully supplied by Meredith and Lynn. The create-your-own art event also found a record number of participants, and not just the ladies. Next year we may just field more members interested in art than cars. Get ready for the "First Annual Cadillac Club Art (and some car stuff) Event".
Thanks to all who participated, especially Meredith and Lynn who manned the studio, and Hyde Park Service mechanic James D. who gave up his Saturday morning to help the Club.
Pot Luck at the Williamsons'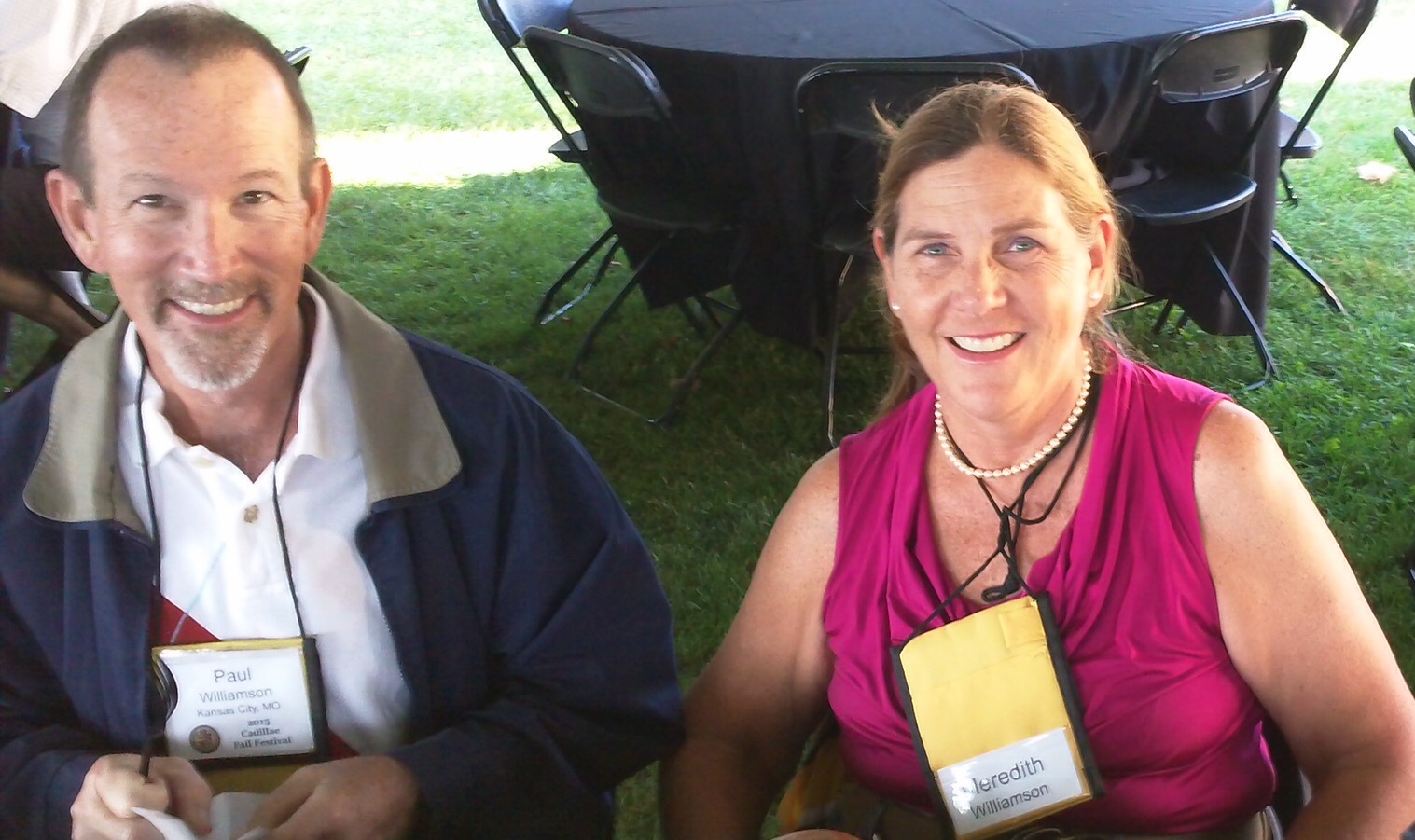 Many thanks to Meredith and Paul Williamson who invited the the Club to a pot luck supper at their lovely northland home March 11th. The event was very well attended, and many salads and side dishes were devoured. Members were also invited to a wine tasting courtesy of Meredith and Lynn. National Meets VP Marsha Redman was on hand to to give members a update on nationally sponsored drives and meets. Marsha also was able to to secure free access and bidding passes to Mecum March 16th and 17th for any Club member who wished to attend.
Visit to Baja Team Fun and Informative
Many thanks to brothers Alex and Nick Eckhoff who gave up their Sunday evening to show KC Cadillac Club Members the workshop of the UMKC SAE Baja Racer Team December 16th. The modest garage space sheltered two of their buggies from 2015 and 2016–this year's effort is literally still on the drawing board. If you are unfamiliar with the Baja Race Team, it's a elective of the university's department of Computers and Engineering. Team members are expected to design and build their own dune-buggy-style vehicle, and compete in speed and endurance tests against other university teams from around the globe. The KC Cadillac Club's sponsorship of the team will enable UMKC's team to travel to Baltimore, MD and Pittsburg, KS this season.
Be sure and view our December meeting minutes for a complete wrap up of the evening's activities.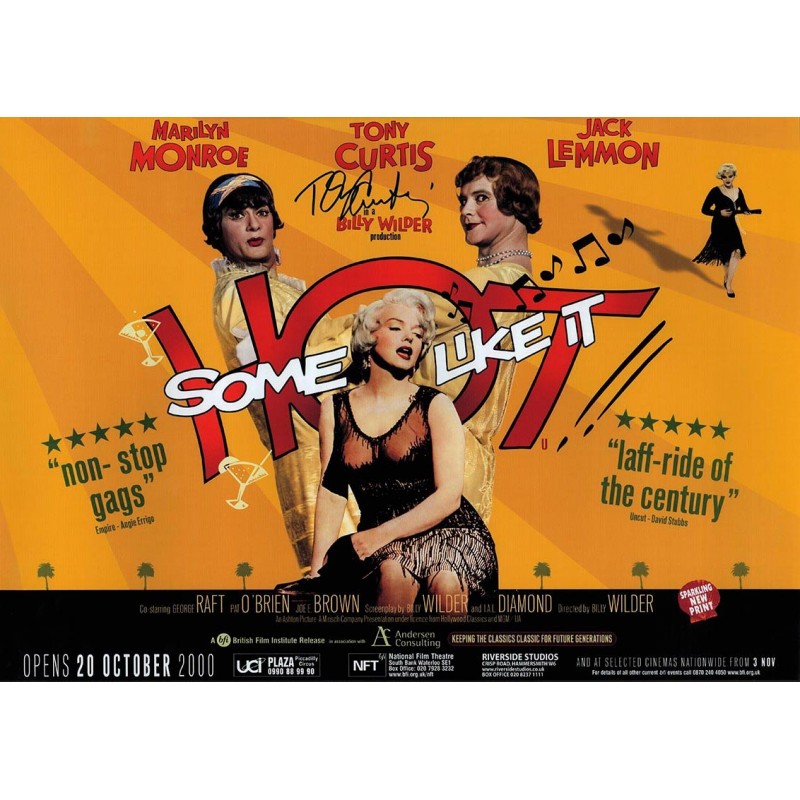 Club Enjoys Movie Night
Not all oldies are goodies, but judging from the riotous laughter echoing through the makeshift Cadillac movie theatre Sunday night, you would think our Club members were viewing a first-run feature. There was much to enjoy in both movies, but the circa 1929 car chase in Some Like it Hot put modern movie chase scenes to shame.
Many thanks to the good folks at the KC Automotive Museum who opened their doors for us Sunday night December 10th for these two classics. Pizza, popcorn, candy, soda and beer were available at reasonable cost. December, of course, is Cadillac Month at the Museum, so there is still time to visit the museum and catch up on the ever-changing exhibits.
---
November 11th Fall Drive: A Capitol Affaire
Our Veterans-Day Fall Drive began under cool and cloudy skies. However, the drizzle that fell most of the day held up until our caravan of Classic Caddies wound its way  through the back roads of Shawnee County to Topeka's Combat Air Museum. At the museum our group of 20 was greeted by 23 members of the Contemporary Historic Vehicle Association. Thanks to Rich Gibbs for uniting the two clubs for the day.
At the museum, members were split up into two groups, with knowledgeable docents Ralph, and Mike as our leaders. As is usually the case, KC Club Members had much to offer to the discussion of the aircraft. Former sailor Rich Gibbs had witnessed many crashes of airplanes in the display, while retired McDonnell Douglas engineer Nelson Itterly worked on the UH-1 helicopter project. Their personal experiences added much to the enjoyment of the fine collection.
Our lunch together at the award-winning Blind Tiger Brewery and Restaurant did not disappoint. Many thanks to BT group coordinator, Harmony, and her crack staff who got us in, fed, and out in time for our Kansas State Capitol tours.
Free underground parking was much appreciated at the Capitol, and our informative tours started on time. Of interest at the Capitol is the building's architecture, Kansas history, fine art, and, of course, politics. Only one club member, Paul Williamson, trod the 300 steps to the observation deck of the rotunda. Or, at least, he is the only one who made it back.
After our tour, the group split. One traveled due south to the Glacier's Edge Winery, while others stayed in Top Town to visit the vehicle and car-o-billia collection of retired firefighter Todd Williams.
Many thanks to Todd, Rich Gibbs, the folks at the museum, restaurant, and the Capitol. Although the weather could have been brighter, all who attended enjoyed their visit to these enlightening and educational venues. Can we work some of this into the 2020 GN?
 Sunday October 1st AACA Car Show, Lawrence Ks

This year's favored marque was Chevrolet, and plenty of bow-tie aficionados showed up to exhibit their cars and trucks. George C. of Lawrence took home the best of show with his beautifully restored 1926 Model K coupe. In the truck dept., Tom Keegan won 2nd place for his 1953 1/2 ton pup, while Norm, Fred K., and Tom Turley each won en their respective classes. Thanks once again to the AACA Lawrence region for hosting the event. Remember to attend the AACAs May swap meet at the Douglas Co. Fairgrounds–proceeds from that event pay for the October show.
President's Pot Luck, September 9th

Thanks to the Christensens for hosting the annual President's Pot-Luck Picnic. Members in attendance enjoyed a fine variety of grilled meats, savory sides, and delicious desserts. Karen and Steve's beautiful home provided the perfect venue to enjoy the summer afternoon, and catch up with old friends–as well as meet new ones. In particular, Craig's friend Mike Nesbit from Dallas proved to be almost as great a depository of Cadillac information as Craig himself! Mike, we hope you had a great time, and enjoy the rest of your visit to the KC area.
Club's Annual Picnic Welcomes Distinguished Guests

Attendees at our annual picnic held Saturday July 8th at Kill Creek Park enjoyed fine weather at breezy Shelter #2. The lakeside venue kept Club Members cool as they enjoyed a fine assortment of grilled meats, sides, and desserts. Thanks to Doug R. and the fine folks at Earp Distribution for providing the hamburgers and chicken, and thanks to Steve and Karen C. for rounding up the beverages. Guests at the picnic included Steven and Michael Rau, sons of John Rau. Steven is a student at JCCC, and Michael is studying violin in New York.
Past CLC President Glenn Brown and his wife Valerie also made an appearance at the picnic. Glenn and Valerie traveled to KC from Chicago to join up with Marsha Redman and visit hotels interested in hosting the 2020 Grand National. Glenn and Valerie were able to answer many questions that members had concerning the event, and the national club.
Spring Drive Saturday June 10th
Wine, Whiskey, and Lunch
Cool, breezy weather greeted 27 Club members and guests as they assembled at Caribou Coffee in the northland for what was to become a glorious day in the country. Our parade of classic Caddies drove north, stopping first at the Holladay Distillery where we were welcomed by a crack staff of guides who marshaled us through the facility. Members were treated to a short video concerning the history of Missouri Whiskey in Weston, then we visited the production, and warehouse areas where our guides filled us in on the intricacies of the manufacture of distilled spirits. Our education was exhaustive. I, for one, will never again take for granted my breakfast boilermakers.
All too soon we queued up again for the scenic drive to Farley, home of Terra Vox Vineyards and Winery. Quickly we set up for our Italian-American feast of lasagna, eggplant parmigiana, and salad. Representing our hosts, Winifred Wright served up a extensive selection of Vox's own estate-bottled wine to compliment the meal, and afterward took us on a tour of the winery's production, bottling, and research facilities. The emphasis here is on the cultivation of heritage grape varieties which helps maintain the genetic diversity of the species.
To cap off the afternoon, members shared a cake to commemorate our Club's 30th anniversary. Don Brown even shared meeting minutes from our long-ago past. We have a lot to be proud of, and a lot to be thankful for–especially our great members of the past, and of the present.
Another Spring Tune Up to Remember at Hyde Park Service
Beautiful weather helped fuel the enthusiasm for car maintenance, and art, April 8th as members gathered for the Club's annual kickoff to Spring, and the classic car season. It's always great to see the cars getting dusted off and back out on the road. Of great interest is always the new acquisitions and the cars new members bring. Much attention was given to Gary Huddleston's turn signal on his '72 Fleetwood, while Bill Logan was able to check out the rear end fluid level in his Brougham. As always, professional mechanics were on hand: James Duyche, and Tom Keegan from Hyde Park Auto, while this year Club Member and owner of Cunningham-Hoagland Automotive, John Hoagland also lent a hand. Thanks, John.
As concerns the art, Lynn and Meredith had many enthusiastic would-be Picassos take their turn at masterpiece creation deep in the recesses of Studio 39. Snacks and Mimosas were also served to the artists, and no doubt contributed to the fine tableaus. If you have been afraid of art, because you believe it's 90% perspiration, and 10% inspiration, grab a drink and a paintbrush. These ladies have cracked the code!
As if this was not enough fun, many in the group headed for Spin Pizza to cap off a fine morning together. Every year the attendance at the Tune Up increases, and so does the fun. Don't miss it next year.
Pot Luck at Williamsons'
Thanks again to the Williamsons, who opened their beautiful home once again to the membership for this annual gathering.
Attendance this year was remarkable, and the food… Let's just say it was the Cadillac of pot-luck suppers.  If you didn't make it downstairs, you missed a fine wine tasting activity provided by Lynn and Meredith.
World of Wheels
Well, if you missed the World of Wheels, you missed a great time, and you missed an opportunity to get up close and personal with the best cars your Club can muster. Many thanks to our exhibitors: Dan Boyer of Cable Dahmer, Randall, Rustin, Tom K, Tom T, Paul W, Adam, Michael C, and Bob L.
A special thanks to Doug Redman who took it upon himself to organize our participation, and design our display.
Of course what show would be complete without a visit from the lovely Phronsie, whose '40s costume proved a great hit with many visitors who asked to be photographed with her.
Club Holiday Party
Approximately 50 members and guests attended the Club Gala at the Ameristar Casino Saturday Feb. 4th. After dining at the Horizons Buffet, Club President Steve Christensen distributed door prizes to lucky attendees. Shirley Taylor won the grand prize, a $200 gift card, which we believe she immediately cashed in for poker chips. Meanwhile, Bob Murphy's two younger sons each selected a bottle of wine with their winning tickets (yes, the wine is destined for mom). Tom Turley received the club attendance award, and will keep the coveted plaque until next year.
Cruise of the Country Club Plaza 
Sunday December 11th's  gathering  at Spin Pizza, was well-attended by a score of hearty members. Norm got the meeting started, but because drinks and dinner were the focus of the agenda, a motion to adjourn was quickly accepted. In fact, so lively was the atmosphere at Spin, it is believed some members skipped the Plaza tour. Well, there is always next year.
Cadillacs at the Museum

 Another December, another Cadillac display at the Kansas City Auto Museum.  A fine selection of KC Cadillac Club members' cars participated in this year's display, representing each decade from the 40s to the 80s. The museum is open every day but Monday.   15095 W 116th St, Olathe, KS 66062
Fall Drive Enjoys Great Weather, Good Food, and Fascinating Tours
Members learn about coffee, art, wine, and more.
A chilly, early start to our Fall Drive Saturday Nov. 12th sent Club members scurrying for the shelter of the Roasterie's coffee house, and the warmth of an air-roasted coffee. Air roasted? you ask. Well, members had many questions regarding the farming, storage, transportation, production, packaging and, of course, brewing of coffee. Did you know coffee is a berry, not a bean? In fact, our tour of the Roasterie coffee facility was so thorough and information-packed one was tempted to grab a cup of Sanka and take a seat on the sofa. Of course, that's not allowed. Instead, our well- caffeinated tour guide, August, schooled the group on a couple of recommended coffee prep techniques. Club members were invited to taste the difference between drip and French press. After this informative tour, I may never go back to Mom's percolated Uban.
A short, winding drive through the picturesque Valentine neighborhood brought us to the Thomas Hart Benton Historical Site, which is part of the Missouri State Park system. Benton, who hailed from Neosho MO settled in Kansas City in 1939. He bought the limestone mansion on Belleview for cash, and used the garage as his studio.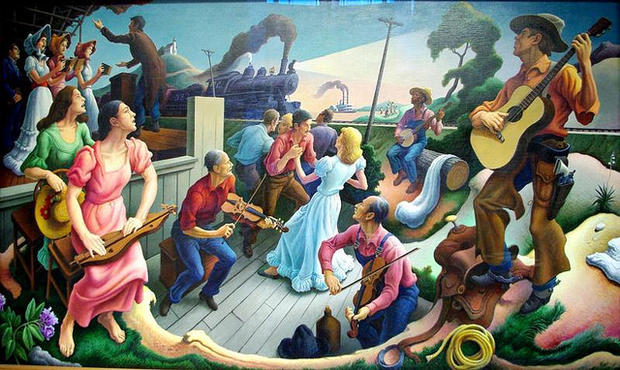 Our informative guide Steve explained Benton's artistic process, which included making 3-D models before painting. He also credited Benton's wife Rita, who sold his work out of the home, with the good business sense to keep the couple solvent. Members agreed the Benton home is one of Kansas City's jewels.
If it is treasure you seek, then look no farther than the Nelson-Atkins Museum of Art. We parked underground (and under water–if you noticed) immediately before lunch at the spacious and elegant Rozzelle Court. The efficient folks at the restaurant offered an alluring selection of soups, salads, sandwiches and desserts to members who were ready for a break. After lunch we were whisked away in two groups by our enthusiastic docents. Our tour of American paintings included, of course, works of Benton, as well as his predecessors and contemporaries. One could spend days at the Nelson and not view the entire collection.
As is well known, viewing art taxes the body, but the good folks at Amagoni Urban Winery know what it takes to slake the thirst of the art-loving Cadillac enthusiast. Members who had the stamina to continue from the art museum to the winery were rewarded with good wine and spirited conversation.
Lunch at Cable Dahmer October 8th
Club members treat the staff and customers to a barbeque

Club Members showed their support and appreciation for our friends at Cable Dahmer GMC-Cadillac Saturday October 8th as we prepared and served lunch to their staff and customers. A fine display of classic Cads also turned up, including the Williamson's recently restored 1962 Park Ave. Thanks especially to the Executive Committee members who contributed their time and unparalleled grilling skills to the effort! Count on returning to Cable Dahmer May 13 for our third All Cadillac car show.
Benton House, Sunnybrooke Cadillac Event
Club Members had an opportunity to show off their rides to the appreciative folks at the Sunnybrooke (formerly Benton House) adult living facility in Lees Summit on September 3rd. Club Members who attended had nothing but great things to say about the people at the facility and their interest in our old cars.
Great Food and Fun at Club's July Picnic
Breezy Shelter #2 at Kill Creek Park in DeSoto was the site of this year's annual picnic. The weather was summer-like, but not oppressive. The t-storms held off, so raindrops were not a concern. The biggest problem members had was negotiating the I 435 interchange. Once at the park, Club Members feasted on a variety of sausages, sides and burgers, courtesy of the Club. Meredith W. supplied three desserts. Her lemon bars nearly brought John Rau tears of joy as he remembered his mom's similar confection.  My overindulgence nearly brought me tears of a different sort.
Another Great Art of the Car Concours Sunday June 26th
While it never did fly, Buckminster Fuller's Dymaxion may have single handedly kept the rain at bay at the tenth annual Art of the Car. Record crowds attended the event at the KC Art Institute. While overcast skies threatened to douse the show field, the only drops that fell were off the noses of sweaty spectators. If you didn't make it this year, plan to attend in 2017, there will be another great collection of rare cars! In ten years, the event has raised more than $1,000,000 for the KCAI scholarship fund.
Club's June 11th Spring Drive fun–but hot!
 On Saturday, June 11th  24 Club Members enjoyed a wonderful, but hot, Spring Drive. How hot was it?  It was so hot that Doug Redman tried to turn on the A/C in his '58!  Unfortunately, the freon had all leaked out, so he never got relief.
Beginning in Blue Springs, at the Burr Oak Woods Conservation Nature Center, we gathered for coffee, treats and driving instructions. At 10am we entered the center to learn  from naturalist, Dianne, who visited with us.  "Name That Roadkill" was a hit during the presentation. We also learned about the wonderful service that Turkey Vultures do for us.
After the Nature Center, we drove east via wonderfully scenic back roads to Higginsville, where we couldn't help noticing–and trying to identify–road kill. Lunch, wine tasting, and our club's birthday party awaited at the Arcadian Moon Vineyards and Winery. Craig Wood, one of our local club's founding members, gave a brief history of the Club's beginnings 29 years ago. After lunch we shared a beautifully decorated Cadillac-crested sheet cake, supplied by Paul and Meredith Williamson.
Once we had had our fill of birthday cake, we headed out to Happy Days Dream Cars in Warrensburg to see some really unusual and rare cars.  Most, if not all, of the cars were for sale. It was awesome seeing so many rare vehicles in pristine condition.
Other than being a tad hot, this was a perfect day for the Club. The warm temps, humidity and brutal sun did slow down some of our members, but the old cars rose to the challenge, and not a single overheating episode was reported. Thanks to all who participated. It was an entertaining and picturesque drive.
It's so great to have an active club with active members that enjoy each others company. I can't wait to see what the Fall Drive has in store for us–cooler temps, perhaps?
Club Invited to Art of Your Car Show
The Club made a strong showing at Aristocrat Motor's pre-Art-of-the-Car Show Saturday May 21st. The event, held at Aristocrat's dealership campus in Overland Park, attracted a wide variety of cars, ranging from exotic Ferraris, and Maseratis to some humble British sports cars.
Club Members met for breakfast at Denny's (were else?) then caravanned to the show field. We had nine cars on display in our designated Cadillac Club area. Both Cadillac and LaSalle were represented with cars dating from the 30s to the 80s. It was a beautiful and relaxing day to enjoy the old cars.
All-Cadillac Car Show at Cable Dahmer Sets New Record
Saturday May 14th our sponsor Cable Dahmer Cadillac hosted our second annual all-club, all-Cad car show on the grounds of their dealership 3107 S. Noland Rd. Independence, MO. Last year we had a fantastic turn out, but this year, with many new members, we exhibited 37 Cadillacs and LaSalles in our beautiful car display. Many thanks to Dan Boyer and his friendly staff for providing the venue and the cookout. Thanks, too to John Rau and Doug, who organized the event at our end. Keep the second Saturday in May open for next  year's show!
Spring Tune-Up Encourages Members to Get Those Old Buggies out of the Garage
Art Studio Adds New Flavor to Spring Tune Up
Here's a thought. Did you consider your Spring Tune up at Hyde Park Service needed a tune up? Sure, changing oil, and tightening fan belts while sharing carburetor stories is great fun. But is there more to a Saturday morning than cars? How about art? Thanks to Lynn and Meredith, Club members were treated to a tour of Lynn's "Studio 39" where they were encouraged to create their own original painting. In addition to art, the ladies supplied mimosas and treats. The refreshments proved so popular, the Cadillacs were soon abandoned. Orange juice, too, was also abandoned, in favor of undiluted bubbly.  Thanks to all who participated in this popular club activity.
Thanks, Williamsons for Another Fun Pot Luck
We had a great turn out for the pot luck dinner and membership meeting at Meredith and Paul Williamson's Sunday March 20th. Members shared much good food including a lovely lasagne made by Marsha, a souflee by Paul Thompson, and some unique samosas prepared from scratch by Lynn. Conversation flowed freely, lubricated by the wine tasting at the basement bar where Meredith and Lynn were happy to discuss the subtle differences between oaky and non-oaked chardonnays. If you didn't make it down to the bar Sunday, your next wine-tasting opportunity will be during our Spring Drive June 11th. See you there. Cheers!
November's Fall Drive Proved to Have Something for Everyone
Are you a fan of history? Do you sew? Would you like to see JC Penney's 1947 Cadillac, enjoy a good meal, a glass of local wine, visit a quaint bakery? Or do you just want to get out in the country with your old Caddy on a beautiful fall day, and enjoy the drive? The twenty-five members and guests who participated in Nov. 14th's Fall Drive said yes, yes, and yes to these activities and more.
Our day started off cool and bright in the northland. A hot cup of joe and and Donut King donut helped keep body and soul together as we gathered. The brightly colored parade of Caddies snaked northeast on secondary roads until we arrived in downtown Hamilton.  There we were greeted by JC Penney Museum founder and self-appointed town historian Dean Hales who ushered us into the museum. A well-organized collection of artifacts told the story of native son JC and his worldwide adventures. Next stop was the boyhood home of JC Penney, which, thanks to Dean, has been restored and relocated to a small park in downtown Hamilton.
At noon we dined at the Blue Stem, where Chef Chad wowed the membership with gourmet burgers, goulash, pot pies, and some memorable desserts. After lunch, many of the guys headed off to see JC's 1947 Caddy Convertible safely stored away in Dean's (who else?) garage. The sight did not disappoint, nor did the stories offered by Dean, and club member Rich Gibbs, who grew up in Hamilton. While the guys swapped lies, I mean stories, other members more profitably  browsed the downtown fabric stores.
A stop along US 36 at the Country Cabin Village provided for a little more shopping, and a stop a the bakery. From there, many members drove on to Osborne for a local wine tasting experience at the Grindstone Valley Winery.
Cadillac Fall Festival Introduces a Few New Wrinkles
The Williamsons and the Keegans made the 1500-mile round trip to Kalamazoo, and Gilmore Michigan to attend the Fall Festival held on the grounds of the Gilmore auto museum September 25th through 27th. If you have never been, you would certainly find plenty to satisfy your old car appetite. Gilmore encompasses roughly 10 separate museums in a lovely rural setting. The newly minted Cadillac and LaSalle Club Museum and Research Center was, of course, our center of focus for the weekend which also included a driving tour, and Cadillac car show. Of note, this was the first venue outside of a Grand National where Class Judging took place. Also, first-place cars received their awards in a drive-through presentation, similar to Pebble Beach. This year's featured car was the V16; The Keegan's 1939 V16 Limousine received the best-in-show award.
Dinner is free to all dues-paying members and one guest. Please RSVP using the Contact page of this website, the app, or leave a voice message with Tom Keegan 816-561-1361.