2020 CLC National Driving Tour Portland and Lincoln City Oregon
SAVE THE DATES! AUGUST 22 – 28, 2020

It might seem like a long ways away, but the 2020 CLC National Driving Tour will be here before we know it. Now's the time to mark your 2020 calendar and  start planning your schedule and trip to the Great Northwest!
The 2020 tour is being hosted by the Mt. Hood and Pacific Northwest Regions and will be based out of Portland and Lincoln City, Oregon .
If you've never been to the Pacific Northwest before (and even if you have) this is one tour that you don't want to miss. This event is a two spoke and hub tour with drives to the Mt. St. Helen's volcano, Mt. Hood's famous Timberline Lodge, and the scenic Columbia River Gorge. Then we head off to the beautiful Oregon Coast driving through some of the world renown Oregon wine country and the Evergreen Air Museum – home of the famous Spruce Goose. At the coast you will have an opportunity for whale watching, lighthouse tours, marine aquariums and fabulous PNW seafood.
Look for registration information in upcoming issues of the Self Starter and visit the website at mthoodregionclc.com for additional information. You can also contact the Tour Director Richard Fabbro at (360)915-4689, fabbrofour@hotmail.com.
CLCMRC Fall Festival Hickory Corners Michigan September 26–29 2019
This one is in the books. A bit rainy, we hear, but a fantastic show field. Follow this link to see some of the great cars and folks: AWARD WINNERS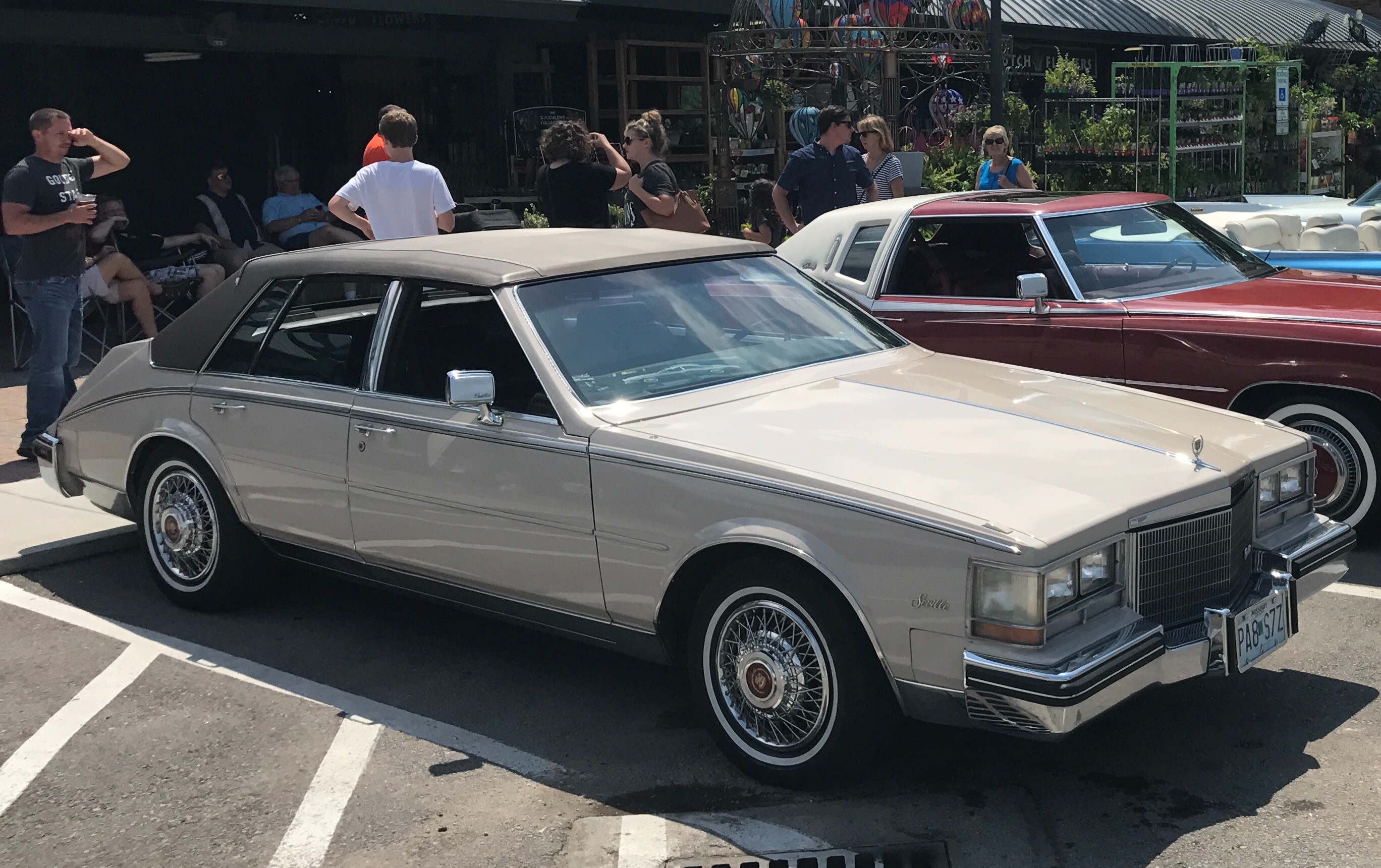 Be sure and keep open the last weekend of September, and join your fellow club members
on the show field at the Gilmore Car Museum campus, site of the Cadillac Museum.
Cadillac & LaSalle Club of Australia 2020Nationals Programme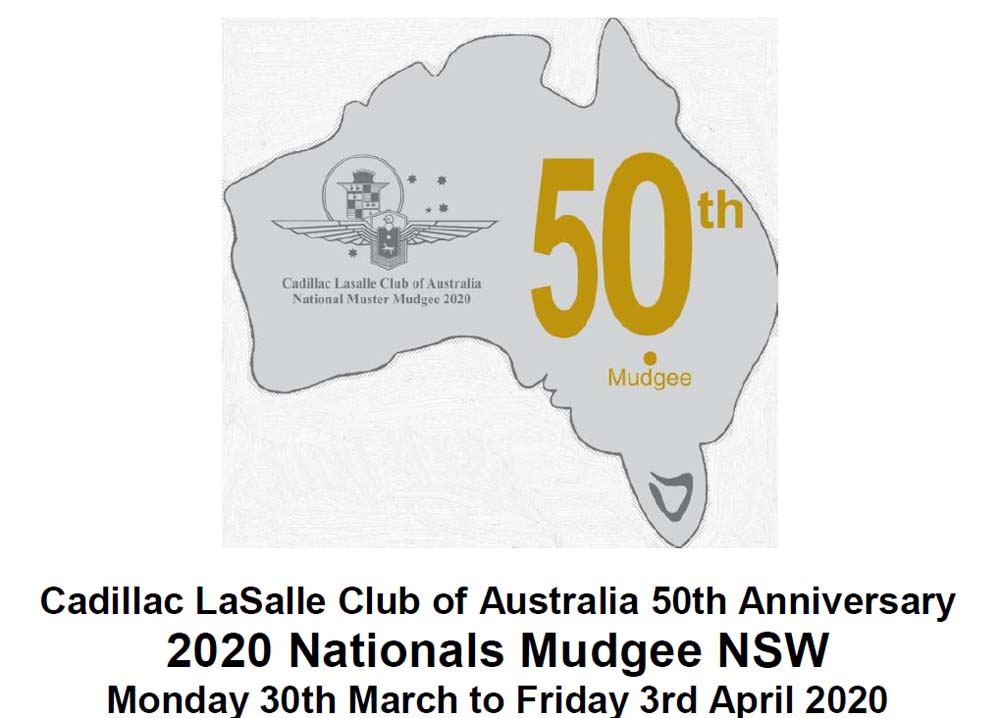 Is this the year you go down under?
https://www.cadillaclasalleclub.com.au/
Monday 30 March 2020
 Registration day at Parklands Resort. Early Birds run to the
Honey Haven, including tour and talk, afternoon tea and scones.
 Welcome BBQ, Parklands Resort.Tuesday 31 March 2020
Gulgong (Approx.28KM's) Visit this Historic gold mining town
originally listed on the ten dollar note. The day includes a below ground gold mining experience, morning and afternoon tea, picnic lunch, guided tour of the township, a performance in the oldest listed Opera House still operating in the southern hemisphere, access to the Pioneers Museum and the use of a local courtesy bus if required at Gulgong.
Wednesday 1 April 2020
Approx.15KM's
This day members shall be split into 2 groups. Both groups shall experience a local club member's vintage car restoration garage and courtesy bus (if
required). A picnic lunch on the landscaped grounds at Gooree park, a
guided walking thoroughbred stud tour, stallion parade, wine tasting and all refreshments.
Thursday 2 April 2020
 Display Day: .Lawson Park
 High Tea: (For the Ladies) At Mudgee's historic railway station.
Includes food, beverages, and entertainment, bus transfers from and
back to Lawson Park.
 Awards Dinner. Includes a 3 course meal, welcome complementary wine at the table, entertainment, awards ceremony and bus transfers for
members not staying at Parklands Resort.
Friday 3 April 2020
Farewell breakfast. Parklands Resort.
Full Details and times in Check-in Package
2020 Nationals Committee
Rick Grimaldi 0418 449 699
Rob Natoli 0418 968 575
Gabrielle Alabaster 0411 957 299
Australian Grand National Renmark South Australia: a Fair Dinkum Experience
Tom and Lynn Keegan were able to attend the Aussie Grand National in Renmark, South Australia March 21 to 26. Smaller than our GNs, the event hosted about 200 Cadillac enthusiasts from Australia, the US, Germany, and New Zealand. Because we were a smaller group, members drove their own cars to the many outings. In a way, it was closer to one of our driving tours. Our headquarters was the Big4 Holiday Park on the Murray river. Very comfortable, it offered a range of accommodation. We stayed in a little pre-fab bungalow, while others brought their camping trailers. One bloke camped in a tent next to his Cadillac. The activities were well-planned and well-executed with the help of many volunteers. But, untimately, it's the Cadillac people who make the trip worthwhile. It was wonderful to make new international friends and catch up with the ones we knew. Of course, all received an invite to Kansas City to attend our GN in 2020.
2017 CLC Grand National Tysons Corner. VA
The 2017 CLC Grand National is in the books, and ranks among the most successful and well-attended events in Club history. Many thanks to the Potomac Region and the Valley Forge Region, for hosting the July 31 – August 6, 2017 event. Chairpersons Ronnie Hux, Scott Minesinger and Jack Hotz are to be commended for planning the events which were much appreciated. As to be expected at an east coast event, many overseas members attended. In fact, the long distance award was collected by a team from Venezuela!
Cadillac Grand European August 23–27 Copenhagen Denmark
Cancelled!
Not Cancelled! What?

The 2017 Grand European in Copenhagen Denmark was cancelled due to the low number of members who signed up to show their cars. But did this stop Cadillac lovers from around the world from creating their own GE? One must ask: Is the international Cadillac & LaSalle Club populated with such diehards that they must attend even a cancelled event?! Well, if you already have your plane tickets, hotel reservations and your English/Danish phrase book tucked into your backpack, then the answer is yes. Astoundingly, 20 Club members from all over Europe and North America gathered in Copenhagen and enjoyed the hospitality of the Danish Cadillac Club August 23rd–27th. Members arrived for the "cancelled" event from Germany, Switzerland, Finland, Sweden, Czech republic, and the good old US of A to do what we do best: Drive Cadillacs, visit great venues, and break bread.
 CLC Announces New Directory, Member Software
The following information courtesy of SWVP Tim Coy
The 2017 CLC International Membership Directory will be mailed in late October to most of you along with your November-December copy of The Self-Starter; for those on First Class and Life memberships, the Directory will be bulk mailed separate from your copy of The Self-Starter. If you are an online-only member, you will not receive a printed directory; it will be available as a read-only PDF in a protected area of the CLC website. A postcard will be inserted in an upcoming issue of The Self-Starter asking members if they wish to continue receiving the printed copy for 2018 and beyond. If the member returns the postcard and/or e-mails the CLC Office, they will continue to receive a mailed directory. Otherwise, they will not, and will be able to log in and look up the information on the CLC website. This is a huge cost-saving move and hopefully will ward off a dues increase for a while longer.
Use the new Directory for membership recruitment
I did this for years when I was the editor of my Region's newsletter. Look up all the names in your assigned area, send all non-Region members a letter and/or a newsletter along with a membership app and ask them to join your Region. My experience was that 20 percent of those people will respond and join your Region, with the new revenue you receive far outpacing your postage expenses asking them to join. The CLC experience is best at the local level.
New membership software coming
The board, in a majority vote, approved to allow the CLC to move its membership records to YourMembership.com by the beginning of 2017. The Club will save money in the long run, while offering members the ability to update their own information without having to notify the CLC Office. Every member will be given one login and password for all functions, which will work for updating your membership information, renewing your membership, viewing The Self-Starter (if you have an upgraded membership), viewing the online Directory, participating in the Discussion Forum and a lot more. Once you're logged in, you can search for every member in your state, members who own the same body style you have, and you can even search for owners using multiple model years. YourMembership.com will allow Regions access to conduct business, so get ready for this exciting change.
Dan Cress of the Badger Region (Wisconsin) has been appointed Grand National treasurer beginning with the CLC-operated 2018 Grand National. Chuck Swanson of the New York Capital District Region has been appointed vice president of Information Technology, and will oversee the implementation of YourMembership.com. DR Rawson of Las Vegas has been appointed chair of the Membership Promotion and Public Relations Committee, and will spearhead efforts to bring in new members and retain existing members.
CLC Museum mortgage retired
The building at the Gilmore Car Museum in Hickory Corners, Michigan, is paid off; however, there are still operating expenses and an upcoming fundraising campaign will take place to expand the building.