Club Unanimously Approves $2,000 Sponsorship of UMKC Baja Team
UMKC's Society of Automotive Engineer's (SAE) Baja Racing Team is a college-level competitive activity. Each year teams from all over the world build their own vehicle, and submit it to rigorous technical assessment, as well as real-life endurance testing. Our Club's donation will enable our young engineering students to travel to more competitions, and fine tune their vehicle and their mechanical skills. These guys and gals will be building the transportation systems of the future, and the Club's unanimous support of their efforts speaks volumes about the character of the Cadillac enthusiast. A formal presentation of the check will occur at our July 23rd membership meeting which will be held at the Kansas City Automotive Museum–not at Denny's.
New Member John Fulkerson
The Club officially welcomed new member John Fulkerson at our April meeting. John, of Plattsburg, MO is the proud owner of a stylish 1970 convertible which he is looking forward to driving this summer. Great to have you aboard, John!
Club Welcomes Hagerty Insurance Rep at April Meeting
Nicole Borghardt, local representative for Hagerty Classic Car Insurance addressed the membership at our April 23rd meeting. Nicole covered a great deal of information concerning her company and its policies, and she answered many Club Member's questions. Thank you Nicole! Some important points:
Collector cars may be driven to work up to 60 times a year.
Coverage is based on "agreed value"
The insured is allowed to use any repair shop, or fix the car his/herself.
Valuations of post-war cars is available online.
Refer to April's Minutes for a complete report
For a complete wrap up of Nicole's talk, refer to the Meeting Minutes.
Grand European 2017 Cancelled
Cadillac Club Denmark is deeply sorry to announce the 2017 Grand European has been cancelled due to lack of participating teams.
President Carsten Jacobsen of Cadillac Club Denmark states: "Based on the information we received and historical participation rates in The Netherlands (2013) and Switzerland (2015) we were planning the 2017 Grand European to host approximately 150 teams. At this stage only 30 teams with 20 Cadillacs has signed up despite our recent request to sign up before April 15'Th."
The board of Cadillac Club Denmark has worked hard to see if it was possible to downsize the Grand European but such a drastic change was simply not possible at this stage. Further, the board of Cadillac Club Denmark was reluctant to commence with so few cars participating.
Carsten Jacobsen explains: "The board agreed that it would not be fair that participants travel across the continent, some even half way around the World, to see 20 Cadillacs. The Grand European should be something extraordinary and spectacular. As much as we would like to go through with the arrangement, the 2017 Grand European would only be a far cry from what was initially planned, so we decided that the only logical decision would be to cancel the event.
We are of course very sorry for the inconvenience this causes for the enthusiasts that already signed up and regret that is has been necessary to take this decision.
Club Has Pushed its Last Car: Mecum, Thanks for the Memories, and the Support
As some of you know, The Kansas City Cadillac Club has had the privilege of organizing and staffing the pushing of cars to and from the stage at the Kansas City Mecum Auctions since 2007. For many of us, it has been a most enjoyable working relationship. As each auction approached, we looked forward to renewing acquaintances with friends in other organizations and with the Mecum staff.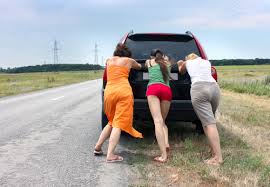 With the passage of time, the Board of Directors needed to evaluate our ability to continue with this physical activity, particularly in light of our aging membership. Growing older isn't so bad, especially considering the alternative. One aspect of growing older is recognizing when we must change some of the things we do.
Many of our members and friends really enjoy pushing the cars. However, an increasing number of them are no longer able to do it without placing their health and well-being in jeopardy. So far, we have been able to cover this by recruiting dedicated car people from other organizations. That has served us well.
Unfortunately, those other organizations are facing the same issue of an aging membership. It's becoming more difficult to recruit enough people who are able to push cars without putting themselves at risk. There are still other organizations which might be able to supply enough people to meet the needs. However, we do not believe this to be a sustainable course of action for the long term.
Accordingly, the Kansas City Cadillac Club has, with great reluctance, decided that we need to withdraw from pushing cars at the auctions. We needed to give this careful consideration and we have done that. When we notified our friends at Mecum, they were most understanding.
For those of you who have helped with pushing cars and/or recruiting others to push cars, please accept my thanks and those of the Cadillac Club. It's been a great ride, but it's time to move on to new adventures. We hope to continue seeing you at events in the months and years to come.
Norman Kressmann, Secretary
Kansas City Cadillac Club
Missouri Valley Official Hosts of the 2020 Grand National
Marsha Redman, newly returned from the CLC Winter Board Meeting in Arizona, announced the CLC's acceptance of our bid to host the 2020 GN.  This is great news for the MO Valley Region. So let's start sharing ideas for tours and activities.
As you may recall, Club members voted to host the GN at our holiday party in January 2016. In addition to Marsha's personal appeal, Rich Gibbs prepared a power point video presentation, and Paul Thompson worked up the logo and themes. This is a great opportunity for us to showcase our city, our Cadillacs, and our hospitality. We're goin' to Kansas City, once again.
Club Members Act to Make Senior's Dream Come True
It was a bit of a lark, really, to hear Marge tell the story. The administrators of Foxwood Springs, a retirement community in Raymore, MO asked residents to propose an activity that would be a dream come true. A make-a-wish pitch, if you will. Marge penned off a note explaining how she and her late husband used to travel in a friend's early 30s V-16 Cadillac. It might be fun, she opined, to ride in one during her upcoming 99th-birthday celebration. This unique request set off a frenzy of communication which reached the highest levels of the Cadillac LaSalle Club, made its way back to Club Vice President Doug Redman in Missouri, and culminated in one unforgettable birthday gift.
High noon February 11th saw a stiff north wind descend from the cold gray sky as Lynn and I brought the car to the doors of the retirement home. But 99-year-old Marge felt no cold. She shunned a blanket as she reached up out of her electric scooter. The chrome handles of the huge black limousine fell into her grasp, and she quickly found herself seated on the leather bench.  With family and friends comfortably seated in the rear passenger compartment, we toured the neighborhood as Marge regaled us with tales of road trips gone by. One Thanksgiving-day trip found Marge, her husband, and the owner of the V-16 Convertible Coupé traveling to Columbia MO from Kansas City to attend the annual MU, KU football classic. The 280-mile round trip began well with unseasonably warm temperatures, so the trio left KC without warm clothing. Halfway through the game, however, the weather turned cold, and, shivering, they left the bleachers. The ride home wasn't much better, as the drafty Caddy had no heater. Credit a pot-bellied stove at a general store on the route back with providing the warm up necessary to get them home.
Of course, the 39′s hot-water heater pumped out plenty of heat as we cruised the quiet streets. "That was my house, " Marge said as we passed a tidy duplex. She left the house for an apartment in the senior center nine years previously. We held hands, and I was not surprised by a warm kiss.
Quite a crowd had gathered as we returned to the center. There were many thanks given, and pictures taken. Marge seemed quite satisfied with the experience. Of course, Lynn and I were probably the happiest. We were grateful for the opportunity to meet this fine lady, her family, and the folks who care for her at Foxwood Springs.
The car? Well, the sixteen took it all in stride, idling patiently in the cold. Just another day on the job: Transporting the world's most precious people in the fantastic style to which they have become accustomed.
Stick it to it, and Stick to it!
Don't miss out on a single activity. Refer often to your Club Activities refrigerator magnet to make sure you don't miss any meetings or events. Keep your magnet handy (perhaps on the fridge?). In addition to local Club info, you'll find useful dates for national and international events as well as web site addresses. Don't have your magnet? Pick one up at your next monthly membership meeting, or email webmaster@kccadillaclub.org and we'll mail you one.
Mecum Kansas City
March 24th, 25th
March's two-day Mecum Auction was well attended, with lots of bidders and about 300 cars offered for sale. Of course, members who helped push the cars probably lost count early in their shifts due the combined effects of exhaust fumes, noise and general fatigue. So, a great time was had by all. Many thanks to those who helped with this fundraiser, especially Steve Christensen who filled Norm Kressmann's shoes as pusher organizer–not an easy task. Steve piloted the ship, and spent the entire two days at the helm.
The Chinese Market Loves American Luxury
General Motors has spent $12 billion on the revitalization of its sole luxury marque, including new SUVs. While it has already made a name for itself in China with Buick, the most popular American car sold on the mainland, GM needed a hit with Cadillac.
GM said earlier this year it delivered 18,011 cars and SUVs in the Chinese market in January, 73% more than the 10,398 Cadillacs sold during the same period by the U.S. unit.
Over the past four years, Cadillac has increased its market share in China, 2016 has been the best year yet. Led by a 46% surge in sales behind the XT5 crossover, Cadillac passed Lexus to sell 116,000 units and become the 4th biggest luxury car maker in the nation of 2 billion people.
Cadillac plans to almost double its dealership count in China, to 300, in the next few years, and GM opened a $1.2 billion plant in Shanghai, where they will build the new flagship CT6 sedan and XT5.
Club Welcomes New Member at October Meeting
The fine fall weather we experienced October 23rd was, no doubt, responsible for the colorful showing of old Cadillacs in the Denny's parking lot. The meeting was well attended and we were able to welcome new member Gary Huddleston. Gary spends much of his time behind the wheel of his massive '71 Fleetwood. We look forward to getting toknow him and his car better in the coming years.
KC Perhaps the Most EV-Friendly City in the Country
Club members routinely top off the tanks of their gas-guzzling behemoths with the liquefied remains of extinct dinosaurs. They may, however, be surprised to learn cow town is stronghold of electric vehicle culture. EV enthusiast and Cadillac ELV owner Michael Cesaretti informed the Club's membership KCPL maintains a network of 1000 EV charging stations. All these juiced vehicles have saved 75 million gallons of gas this past year in Kansas City, which has made a significant dent in our carbon footprint.
2017 CLC Grand National Tysons Corner. VA
http://www.vfrclc.org/2017gn.html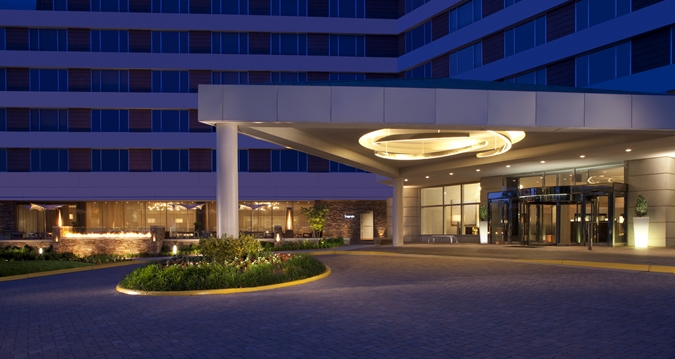 Our host hotel for the 2017 Grand National Meet will be the flagship of the Hilton Hotel chain: the Hilton McLean Tysons Corner in McLean, Virginia (map). The Hilton McLean Tysons Corner is a AAA Four Diamond Award Winner and has just undergone a multi-million dollar renovation. Our room rate at this 5-Star hotel will be $129 per night plus applicable taxes. Use your special code to get this rate: CLC GN 2017
The hotel is located just off the Capital Beltway on the west side of Washington, D.C. A map and directions are available here.
Please note there has been overwhelming demand for GN reservations and some nights are currently unavailable. You may call the Hilton reservation center at 1 800 Hiltons.

Weston to Serve as Overflow Hotel
If you are unable to secure reservations at the host hotel, you may call to reserve a room at the Weston Tysons Corner, which is within a mile of the Hilton. A shuttle will be provided to get you to and fro. 1 888 627 8970, or (703) 893-1340
24 Members and Guests Brave the Hot Temps to Participate in Club's Spring Drive
Even though temps soared into the mid-nineties Saturday June 11th, Club Members turned out by the dozen to to travel the back roads for our Annual Spring Drive. The cool shade of the picnic area at Burr Oak Woods provided welcome relief from the 90-degree heat as we gathered shortly after 9am for coffee and treats. At the nature center we were addressed by naturalist, Dianne, who quizzed members on their knowledge of road kill and vultures. Our following drive to Higginsville provided much opportunity to attempt identification of numerous small animals who had been struck by cars. In Higginsville, members lunched on pizza and salad, and were treated to a wine-tasting by Arcadian Moon Winery proprietor, Doug, or Randy, or, well, you know him.
At the winery, we cut the club's birthday cake, for, perhaps. the first time in 29 years. Founding member Craig Wood gave an all-too-brief talk on the history of the Club. Then it was time to hit the hot, dusty trail again. At our final stop at Happy Days Dream Cars showroom in Warrensburg, we viewed a beautiful collection of classic and muscle cars–all of which were for sale! It seemed as if Club members resisted the lure of the inventory, there were, however no Cadillacs.
All-Cadillac Car Show at Cable Dahmer Sets New Record
Saturday May 14th our sponsor Cable Dahmer Cadillac hosted our second annual all-club, all-Cad car show on the grounds of their dealership 3107 S. Noland Rd. Independence, MO. Last year we had a fantastic turn out, but this year, with many new members, we exhibited 37 Cadillacs and LaSalles in our beautiful car display. Many thanks to Dan Boyer and his friendly staff for providing the venue and the cookout. Thanks, too to John Rau and Doug, who organized the event at our end. Keep the second Saturday in May open for next  year's show!
Thanks for your participation in this most important Club event.
Club Welcomes New Members
Two new Club members introduced themselves at our April meeting. Jim Byler and his wife, Annette, currently enjoy a pair of his-and-hers Eldorados. Kenny Cox has a few Caddies, including a 1960 Fleetwood that is looking for a new home. Additionally, Eldorado convertible owner Larry Eisenhauer made an appearance at the Spring Tune Up. Welcome to these new Club members. We look forward to getting to know them better throughout the years!
If you have questions about joining the Club, Visit our Join page, or call Club New-Member Liaison John Rau to get more info. 816-205-1812.
Missouri Valley Region Awarded Norm Uhlir Regional Activity Award at Grand National
A great and pleasant surprise greeted KC Cadillac Club Members who attended the CLC Grand National Awards Banquet Saturday
April 16th in Las Vegas, NV. As awards presenter Gary Fisher described the region that was nominated and won the Norm Uhlir Regional Activity Award, he stated, "And this region literally pushes cars as an effort to help their region."  Well, that could only be us! As it  happens, Regional VP Tim Coy nominated our Club. Later the nomination was voted on by the entire National Board.  "This is really cool stuff and a feather in our cap," said Club Vice President Doug Redman. When the award was announced, Redman accepted the award.  Mentioned by the CLC were our participation in national events, our website, and our promotional materials. Congratulations to all our members.
The award, engraved with President Steve Christensen's name, will be present at our meeting this month, and we will also have it on display at our all-Cadillac Cable-Dahmer Car Show May 14th.
The Norm Uhlir Regional Activity Award was created in honor of Cadillac & LaSalle Club Past President Norman Uhlir to encourage greater activity by chartered regions of the CLC. It is awarded annually to the region demonstrating outstanding overall activity in the following areas:
special membership services,
regional meets,
membership stability (retain or add members),
quality reports and articles submitted by members of the region toThe Self-Starter,
participation in Grand Nationals,
special activities such as regional club projects, especially if beneficial to all CLC members.
Even More Awards
Congrats to former KC Cadillac Club President Paul Ulasien for his second place award in the uber-competitive Eldorado primary division. Paul and Sherry are spending more time in KC and may just pop in at a future meeting.
Long-Distance Award Goes to Old-Timer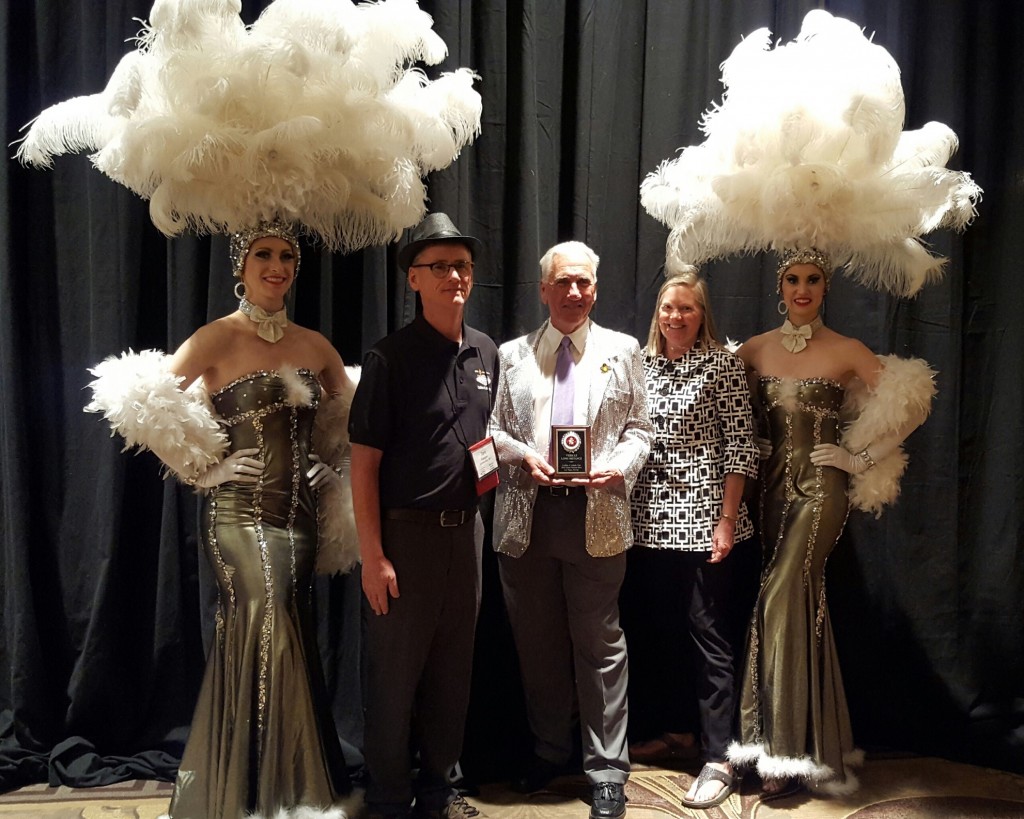 While many cars drove farther, Tom and Lynn Keegan were recognized for driving their 1939 V-16 to the Grand National, and took home the Long-Distance award. Including stops at two nation parks, the total distance the couple traveled in the 77-year-old limo added up to 3,400 miles. The only casualties were a lost rear-view mirror, and one flat tire. And, yes, the couple are still speaking. The car also won an award in primary division.
 Auctioned Sign Brings $725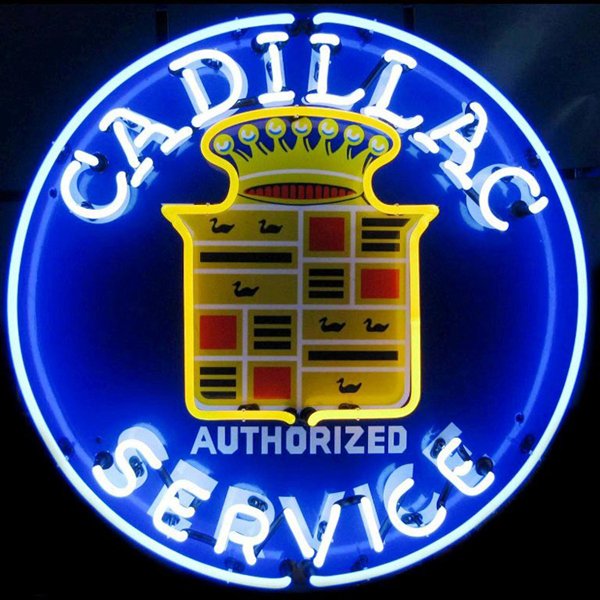 The Club's donation of a neon "Cadillac" sign sold for an astounding $725 at the Grand National's opening night auction. Proceeds from the sale of the sign will benefit the CLC Museum and Research Center in Hickory Corners, MI.
 MO Valley Receives Website Excellence Award
For the second year in a row, our Club's website has been recognized by the CLC.
Spring Tune Up Helps Keeps the Old Cars on the Road

Thanks again to Hyde Park Service 100 E. 39th Street KCMO for welcoming Club members and their rides Saturday April 2nd for our Annual Spring Tune Up. This year's event attracted a record number of members who availed themselves of the facility's equipment to perform much-needed maintenance and repairs.
Even members who thought car repairs were out of their league, were shepherded into the auto service world by professional mechanic James Duyck.
Coffee and donuts were provided by the Club, but those members less interested in mechanic-ing  joined Lynn and Meredith at the  art studio located at Hyde Park Service. While not many masterpieces were created, Club Members did enjoy the studio atmosphere, and Mimosas. Notes for next year: less OJ, more shampoo.
 Club Officer Elections
At our 2016 holiday party, Steve Christensen was voted to another three-year term, as were Treasurer Paul Williamson, Vice President Doug Redman, and Secretary Norm Kressman. John Rau will continue as new-member liaison, while Tom Keegan will work on activities as well as the Club's web page and media sites. Congratulations to all our officers, and thank you for your generous contribution of time and talent on behalf of the Club.