Spring Drive Saturday June 10th
Wine, Whiskey, and Lunch
Cool, breezy weather greeted 27 Club members and guests as they assembled at Caribou Coffee in the northland for what was to become a glorious day in the country. Our parade of classic Caddies drove north, stopping first at the Holladay Distillery where we were welcomed by a crack staff of guides who marshaled us through the facility. Members were treated to a short video concerning the history of Missouri Whiskey in Weston, then we visited the production, and warehouse areas where our guides filled us in on the intricacies of the manufacture of distilled spirits. Our education was exhaustive. I, for one, will never again take for granted my breakfast boilermakers.
All too soon we queued up again for the scenic drive to Farley, home of Terra Vox Vineyards and Winery. Quickly we set up for our Italian-American feast of lasagna, eggplant parmigiana, and salad. Representing our hosts, Winifred Wright served up a extensive selection of Vox's own estate-bottled wine to compliment the meal, and afterward took us on a tour of the winery's production, bottling, and research facilities. The emphasis here is on the cultivation of heritage grape varieties which helps maintain the genetic diversity of the species.
To cap off the afternoon, members shared a cake to commemorate our Club's 30th anniversary. Don Brown even shared meeting minutes from our long-ago past. We have a lot to be proud of, and a lot to be thankful for–especially our great members of the past, and of the present.
Another Spring Tune Up to Remember at Hyde Park Service
Beautiful weather helped fuel the enthusiasm for car maintenance, and art, April 8th as members gathered for the Club's annual kickoff to Spring, and the classic car season. It's always great to see the cars getting dusted off and back out on the road. Of great interest is always the new acquisitions and the cars new members bring. Much attention was given to Gary Huddleston's turn signal on his '72 Fleetwood, while Bill Logan was able to check out the rear end fluid level in his Brougham. As always, professional mechanics were on hand: James Duyche, and Tom Keegan from Hyde Park Auto, while this year Club Member and owner of Cunningham-Hoagland Automotive, John Hoagland also lent a hand. Thanks, John.
As concerns the art, Lynn and Meredith had many enthusiastic would-be Picassos take their turn at masterpiece creation deep in the recesses of Studio 39. Snacks and Mimosas were also served to the artists, and no doubt contributed to the fine tableaus. If you have been afraid of art, because you believe it's 90% perspiration, and 10% inspiration, grab a drink and a paintbrush. These ladies have cracked the code!
As if this was not enough fun, many in the group headed for Spin Pizza to cap off a fine morning together. Every year the attendance at the Tune Up increases, and so does the fun. Don't miss it next year.
Pot Luck at Williamsons'
Thanks again to the Williamsons, who opened their beautiful home once again to the membership for this annual gathering.
Attendance this year was remarkable, and the food… Let's just say it was the Cadillac of pot-luck suppers.  If you didn't make it downstairs, you missed a fine wine tasting activity provided by Lynn and Meredith.
World of Wheels
Well, if you missed the World of Wheels, you missed a great time, and you missed an opportunity to get up close and personal with the best cars your Club can muster. Many thanks to our exhibitors: Dan Boyer of Cable Dahmer, Randall, Rustin, Tom K, Tom T, Paul W, Adam, Michael C, and Bob L.
A special thanks to Doug Redman who took it upon himself to organize our participation, and design our display.
Of course what show would be complete without a visit from the lovely Phronsie, whose '40s costume proved a great hit with many visitors who asked to be photographed with her.
Club Holiday Party
Approximately 50 members and guests attended the Club Gala at the Ameristar Casino Saturday Feb. 4th. After dining at the Horizons Buffet, Club President Steve Christensen distributed door prizes to lucky attendees. Shirley Taylor won the grand prize, a $200 gift card, which we believe she immediately cashed in for poker chips. Meanwhile, Bob Murphy's two younger sons each selected a bottle of wine with their winning tickets (yes, the wine is destined for mom). Tom Turley received the club attendance award, and will keep the coveted plaque until next year.
Cruise of the Country Club Plaza 
Sunday December 11th's  gathering  at Spin Pizza, was well-attended by a score of hearty members. Norm got the meeting started, but because drinks and dinner were the focus of the agenda, a motion to adjourn was quickly accepted. In fact, so lively was the atmosphere at Spin, it is believed some members skipped the Plaza tour. Well, there is always next year.
Cadillacs at the Museum

 Another December, another Cadillac display at the Kansas City Auto Museum.  A fine selection of KC Cadillac Club members' cars participated in this year's display, representing each decade from the 40s to the 80s. The museum is open every day but Monday.   15095 W 116th St, Olathe, KS 66062
Fall Drive Enjoys Great Weather, Good Food, and Fascinating Tours
Members learn about coffee, art, wine, and more.
A chilly, early start to our Fall Drive Saturday Nov. 12th sent Club members scurrying for the shelter of the Roasterie's coffee house, and the warmth of an air-roasted coffee. Air roasted? you ask. Well, members had many questions regarding the farming, storage, transportation, production, packaging and, of course, brewing of coffee. Did you know coffee is a berry, not a bean? In fact, our tour of the Roasterie coffee facility was so thorough and information-packed one was tempted to grab a cup of Sanka and take a seat on the sofa. Of course, that's not allowed. Instead, our well- caffeinated tour guide, August, schooled the group on a couple of recommended coffee prep techniques. Club members were invited to taste the difference between drip and French press. After this informative tour, I may never go back to Mom's percolated Uban.
A short, winding drive through the picturesque Valentine neighborhood brought us to the Thomas Hart Benton Historical Site, which is part of the Missouri State Park system. Benton, who hailed from Neosho MO settled in Kansas City in 1939. He bought the limestone mansion on Belleview for cash, and used the garage as his studio.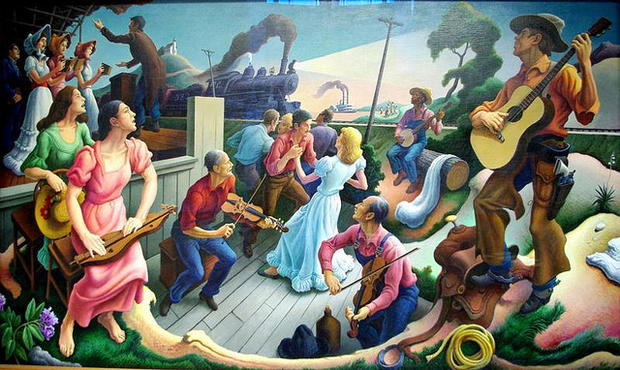 Our informative guide Steve explained Benton's artistic process, which included making 3-D models before painting. He also credited Benton's wife Rita, who sold his work out of the home, with the good business sense to keep the couple solvent. Members agreed the Benton home is one of Kansas City's jewels.
If it is treasure you seek, then look no farther than the Nelson-Atkins Museum of Art. We parked underground (and under water–if you noticed) immediately before lunch at the spacious and elegant Rozzelle Court. The efficient folks at the restaurant offered an alluring selection of soups, salads, sandwiches and desserts to members who were ready for a break. After lunch we were whisked away in two groups by our enthusiastic docents. Our tour of American paintings included, of course, works of Benton, as well as his predecessors and contemporaries. One could spend days at the Nelson and not view the entire collection.
As is well known, viewing art taxes the body, but the good folks at Amagoni Urban Winery know what it takes to slake the thirst of the art-loving Cadillac enthusiast. Members who had the stamina to continue from the art museum to the winery were rewarded with good wine and spirited conversation.
Lunch at Cable Dahmer October 8th
Club members treat the staff and customers to a barbeque

Club Members showed their support and appreciation for our friends at Cable Dahmer GMC-Cadillac Saturday October 8th as we prepared and served lunch to their staff and customers. A fine display of classic Cads also turned up, including the Williamson's recently restored 1962 Park Ave. Thanks especially to the Executive Committee members who contributed their time and unparalleled grilling skills to the effort! Count on returning to Cable Dahmer May 13 for our third All Cadillac car show.
Benton House, Sunnybrooke Cadillac Event
Club Members had an opportunity to show off their rides to the appreciative folks at the Sunnybrooke (formerly Benton House) adult living facility in Lees Summit on September 3rd. Club Members who attended had nothing but great things to say about the people at the facility and their interest in our old cars.
Great Food and Fun at Club's July Picnic
Breezy Shelter #2 at Kill Creek Park in DeSoto was the site of this year's annual picnic. The weather was summer-like, but not oppressive. The t-storms held off, so raindrops were not a concern. The biggest problem members had was negotiating the I 435 interchange. Once at the park, Club Members feasted on a variety of sausages, sides and burgers, courtesy of the Club. Meredith W. supplied three desserts. Her lemon bars nearly brought John Rau tears of joy as he remembered his mom's similar confection.  My overindulgence nearly brought me tears of a different sort.
Another Great Art of the Car Concours Sunday June 26th
While it never did fly, Buckminster Fuller's Dymaxion may have single handedly kept the rain at bay at the tenth annual Art of the Car. Record crowds attended the event at the KC Art Institute. While overcast skies threatened to douse the show field, the only drops that fell were off the noses of sweaty spectators. If you didn't make it this year, plan to attend in 2017, there will be another great collection of rare cars! In ten years, the event has raised more than $1,000,000 for the KCAI scholarship fund.
Club's June 11th Spring Drive fun–but hot!
 On Saturday, June 11th  24 Club Members enjoyed a wonderful, but hot, Spring Drive. How hot was it?  It was so hot that Doug Redman tried to turn on the A/C in his '58!  Unfortunately, the freon had all leaked out, so he never got relief.
Beginning in Blue Springs, at the Burr Oak Woods Conservation Nature Center, we gathered for coffee, treats and driving instructions. At 10am we entered the center to learn  from naturalist, Dianne, who visited with us.  "Name That Roadkill" was a hit during the presentation. We also learned about the wonderful service that Turkey Vultures do for us.
After the Nature Center, we drove east via wonderfully scenic back roads to Higginsville, where we couldn't help noticing–and trying to identify–road kill. Lunch, wine tasting, and our club's birthday party awaited at the Arcadian Moon Vineyards and Winery. Craig Wood, one of our local club's founding members, gave a brief history of the Club's beginnings 29 years ago. After lunch we shared a beautifully decorated Cadillac-crested sheet cake, supplied by Paul and Meredith Williamson.
Once we had had our fill of birthday cake, we headed out to Happy Days Dream Cars in Warrensburg to see some really unusual and rare cars.  Most, if not all, of the cars were for sale. It was awesome seeing so many rare vehicles in pristine condition.
Other than being a tad hot, this was a perfect day for the Club. The warm temps, humidity and brutal sun did slow down some of our members, but the old cars rose to the challenge, and not a single overheating episode was reported. Thanks to all who participated. It was an entertaining and picturesque drive.
It's so great to have an active club with active members that enjoy each others company. I can't wait to see what the Fall Drive has in store for us–cooler temps, perhaps?
Club Invited to Art of Your Car Show
The Club made a strong showing at Aristocrat Motor's pre-Art-of-the-Car Show Saturday May 21st. The event, held at Aristocrat's dealership campus in Overland Park, attracted a wide variety of cars, ranging from exotic Ferraris, and Maseratis to some humble British sports cars.
Club Members met for breakfast at Denny's (were else?) then caravanned to the show field. We had nine cars on display in our designated Cadillac Club area. Both Cadillac and LaSalle were represented with cars dating from the 30s to the 80s. It was a beautiful and relaxing day to enjoy the old cars.
All-Cadillac Car Show at Cable Dahmer Sets New Record
Saturday May 14th our sponsor Cable Dahmer Cadillac hosted our second annual all-club, all-Cad car show on the grounds of their dealership 3107 S. Noland Rd. Independence, MO. Last year we had a fantastic turn out, but this year, with many new members, we exhibited 37 Cadillacs and LaSalles in our beautiful car display. Many thanks to Dan Boyer and his friendly staff for providing the venue and the cookout. Thanks, too to John Rau and Doug, who organized the event at our end. Keep the second Saturday in May open for next  year's show!
Spring Tune-Up Encourages Members to Get Those Old Buggies out of the Garage
Art Studio Adds New Flavor to Spring Tune Up
Here's a thought. Did you consider your Spring Tune up at Hyde Park Service needed a tune up? Sure, changing oil, and tightening fan belts while sharing carburetor stories is great fun. But is there more to a Saturday morning than cars? How about art? Thanks to Lynn and Meredith, Club members were treated to a tour of Lynn's "Studio 39″ where they were encouraged to create their own original painting. In addition to art, the ladies supplied mimosas and treats. The refreshments proved so popular, the Cadillacs were soon abandoned. Orange juice, too, was also abandoned, in favor of undiluted bubbly.  Thanks to all who participated in this popular club activity.
Thanks, Williamsons for Another Fun Pot Luck
We had a great turn out for the pot luck dinner and membership meeting at Meredith and Paul Williamson's Sunday March 20th. Members shared much good food including a lovely lasagne made by Marsha, a souflee by Paul Thompson, and some unique samosas prepared from scratch by Lynn. Conversation flowed freely, lubricated by the wine tasting at the basement bar where Meredith and Lynn were happy to discuss the subtle differences between oaky and non-oaked chardonnays. If you didn't make it down to the bar Sunday, your next wine-tasting opportunity will be during our Spring Drive June 11th. See you there. Cheers!
November's Fall Drive Proved to Have Something for Everyone
Are you a fan of history? Do you sew? Would you like to see JC Penney's 1947 Cadillac, enjoy a good meal, a glass of local wine, visit a quaint bakery? Or do you just want to get out in the country with your old Caddy on a beautiful fall day, and enjoy the drive? The twenty-five members and guests who participated in Nov. 14th's Fall Drive said yes, yes, and yes to these activities and more.
Our day started off cool and bright in the northland. A hot cup of joe and and Donut King donut helped keep body and soul together as we gathered. The brightly colored parade of Caddies snaked northeast on secondary roads until we arrived in downtown Hamilton.  There we were greeted by JC Penney Museum founder and self-appointed town historian Dean Hales who ushered us into the museum. A well-organized collection of artifacts told the story of native son JC and his worldwide adventures. Next stop was the boyhood home of JC Penney, which, thanks to Dean, has been restored and relocated to a small park in downtown Hamilton.
At noon we dined at the Blue Stem, where Chef Chad wowed the membership with gourmet burgers, goulash, pot pies, and some memorable desserts. After lunch, many of the guys headed off to see JC's 1947 Caddy Convertible safely stored away in Dean's (who else?) garage. The sight did not disappoint, nor did the stories offered by Dean, and club member Rich Gibbs, who grew up in Hamilton. While the guys swapped lies, I mean stories, other members more profitably  browsed the downtown fabric stores.
A stop along US 36 at the Country Cabin Village provided for a little more shopping, and a stop a the bakery. From there, many members drove on to Osborne for a local wine tasting experience at the Grindstone Valley Winery.
Cadillac Fall Festival Introduces a Few New Wrinkles
The Williamsons and the Keegans made the 1500-mile round trip to Kalamazoo, and Gilmore Michigan to attend the Fall Festival held on the grounds of the Gilmore auto museum September 25th through 27th. If you have never been, you would certainly find plenty to satisfy your old car appetite. Gilmore encompasses roughly 10 separate museums in a lovely rural setting. The newly minted Cadillac and LaSalle Club Museum and Research Center was, of course, our center of focus for the weekend which also included a driving tour, and Cadillac car show. Of note, this was the first venue outside of a Grand National where Class Judging took place. Also, first-place cars received their awards in a drive-through presentation, similar to Pebble Beach. This year's featured car was the V16; The Keegan's 1939 V16 Limousine received the best-in-show award.
President's Cookout at the Christensen's Well-Attended
Many thanks to Karen and Steve for their hospitality as they welcomed Club Members to their beautiful home August 22nd. The President's Cook Out has become a traditional yearly event, and this year's activity did not disappoint. Steve grilled hamburgers, hot dogs and sausages, while guests brought the sides and desserts–plenty for everyone. I can't wait till next year, but who will the hosting president be?